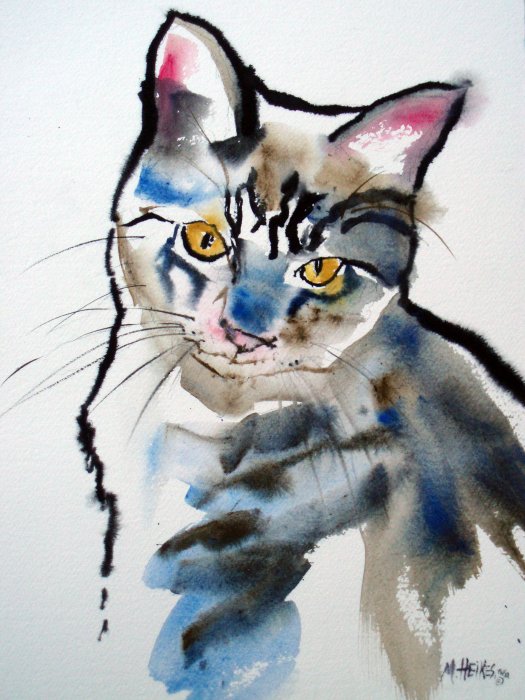 Quinnifer
Watercolor & gouache
I'm back to using my Chinese brush technique again! Yesterday's daily painting was not up to my quality standards, and I wanted a playful and spontaneous result. I began by sketching the cat with my left hand – -forcing myself to draw more loosely. The next step was wetting both sides of the 300 pound paper so that the black brushstrokes would be softer and expressive.  This sketching directly on the damp paper using a script liner brush was exactly what I intended. While the paper was still damp, I used a broad 1" flat sable to add the umber and cobalt blue of his fur and a smaller round brush for his gold eyes.  The paper stayed damp longer because the back side was soaked. Another Chinese brush technique is the "flying whites", where the pigment on the brush scrapes the dry-damp surface of the paper; somewhat like a dry brush effect.
Want to Buy It?
Format
Size
Price
Original

11″ × 15″

Single gray mat (13 1/4" x 17").

Print

8″ × 10″

Actual image size is 7.33″×10″.

Print

11″ × 14″

Actual image size is 10.27″×14″.

Print

16″ × 20″

Actual image size is 14.67″×20″.
*Frame and mats not included unless noted. Shipping costs are for the continental U.S. Ordering help & policies.