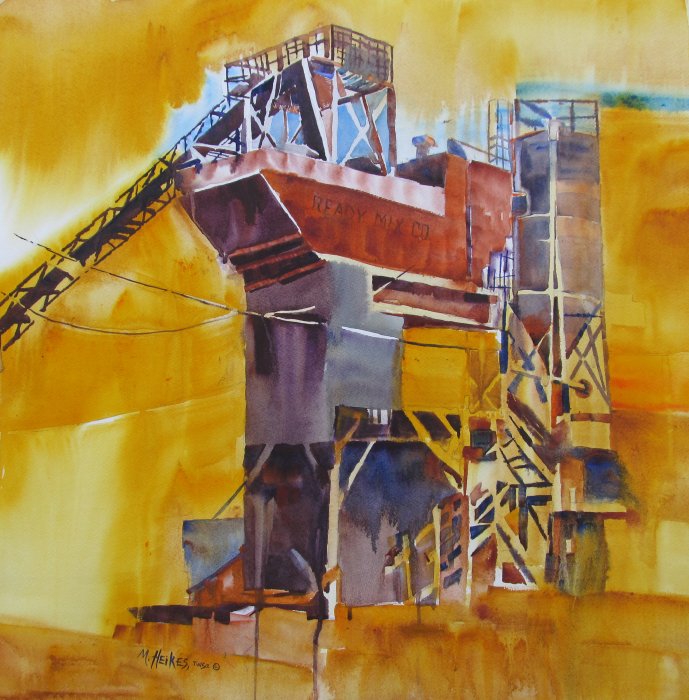 Industrial Series / Ready Mix Cement
Watercolor
This painting began with numerous sketches and photographs. The angular, rusty shapes attracted my attention and I found myself searching out these old industrial areas. Centerville has a lot of interesting places to paint.
I completed a full-size sketch of this to begin with, seeking out big, abstract shapes and value patterns. I find this method is easier to transfer to my good sheet of watercolor paper without using a lot of unnecessary lines. I taped my sketch to a window and taped the watercolor paper over the sketch. It's just a bare bones drawing of where I will place the major shapes.
My goal was having the washes run and mingle on the paper, so I started out on my easel. I used lots of water and colors were running all over the place. It's challenging to work on an easel and I usually work flat with the top of the board elevated a bit. It is fun to use large, flat brushes and cover a big area without getting bogged down in the details. I used new gamboge and raw sienna for the background and while the paper was damp, started adding my dark values. Gradually I work the whole area back and forth between areas that are drying. I sometimes wet the back of the paper so it stays damp longer allowing me to work wet-in-wet. The reason for working wetter is to get softer edges that contrast with the hard shapes.
It took me about a month to complete it. In the first session I painted 80% of the watercolor and stopped because I got tired and did not want to ruin the first efforts. No matter how many years you have painted, it is possible to ruin a good thing. The use of a limited palette provides harmony and unity. Ultramarine blue, cerulean blue complement the orange shapes. Many times I double-load the brush for great dark values, such as ultramarine blue and burnt sienna, and let them blend on the damp paper. This technique was learned while studying Chinese brush painting a few years ago.
Want to Buy It?
Format
Size
Price
Original

21″ × 22″

Frosted copper metal frame (27" x 27") with white mat

Print

8″ × 10″

Actual image size is 8″×8.38″.

Print

11″ × 14″

Actual image size is 11″×11.52″.

Print

16″ × 20″

Actual image size is 16″×16.76″.
*Frame and mats not included unless noted. Shipping costs are for the continental U.S. Ordering help & policies.