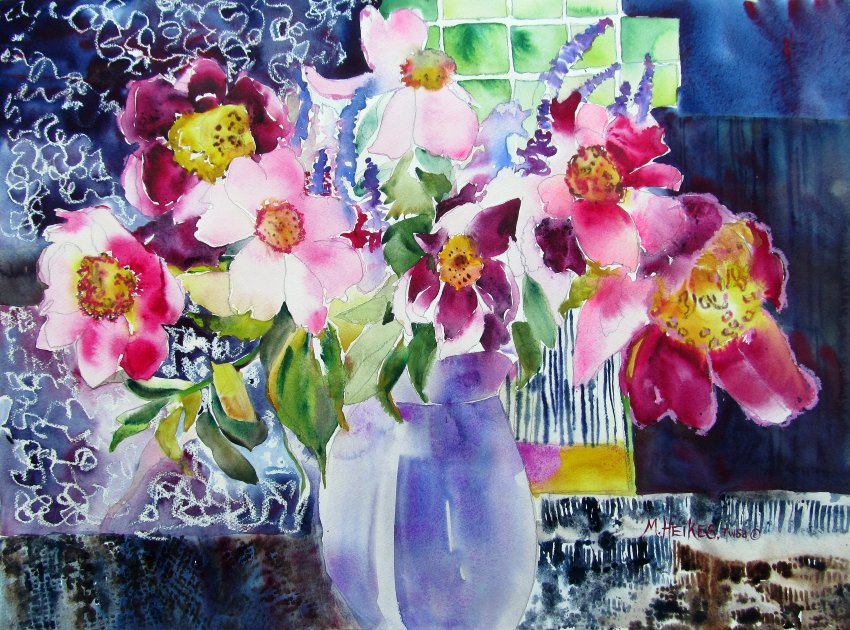 Chocolate Mint, Peonies & Speedwell
Watercolor & gouache
This is my newest watercolor of a bouquet of our garden flowers. I never tire of this subject matter because the possibilities are endless, and the vivid colors inspire me to paint! It is a joy selecting the variety of blooming flowers, cutting and arranging them in a pleasing display. They are ready to paint in no time at all.
I always start with a contour drawing and use different drawing media to capture the flowers with a loose, expressive line. I used a Derwent sketching pencil that lightens when water is washed over it, but has an evident linear quality after pigments dry. I like the quality of pencil lines in my watercolors — the lines fade in and weave though the painting.
The peonies bloomed in mid-May, along with the chocolate mint — which is new to my garden. It is a intoxicating fragrance. Although the vase was green, I took artistic license changing it to work in with the other values in the painting. I begin painting by wetting a section of the flower shape and working wet-in-wet. Each shape is painted in regard to its relationship with adjoining shapes. Colors are blended on the paper, and it is wonderful to watch the pigments mix and blend together in unexpected ways. Some of the pigments I used were Opera, Quinacridone Rose and Fuchsia, Cadmium Yellow, Yellow Ochre, Sap Green, Cobalt Violet,Ultramarine Blue, Thalo Blue, Cobalt Blue, Sodalite Genuine, and Burnt Umber.
Other texture was added to give depth to the watercolor painting, which includes scribbled wax lines, oil and watercolor crayons, and printing with plastic bag. There is a slight risk drawing with a stump of plain wax: you cannot see any evidence of the line you are drawing on the paper until you add the watercolor washes. I was quite pleased with the scribbled effect. This adds great texture and interest to the final painting. After I had finished it, the vase was very pale, so I decided to add some washes with the Cobalt Blue and Violet which added the dimension it needed.
Want to Buy It?
Format
Size
Price
Original

23″ × 17″

Gold metal frame (28.5" x 24") with white mat

Print

8″ × 10″

Actual image size is 7.39″×10″.

Print

11″ × 14″

Actual image size is 10.35″×14″.

Print

16″ × 20″

Actual image size is 14.78″×20″.
*Frame and mats not included unless noted. Shipping costs are for the continental U.S. Ordering help & policies.