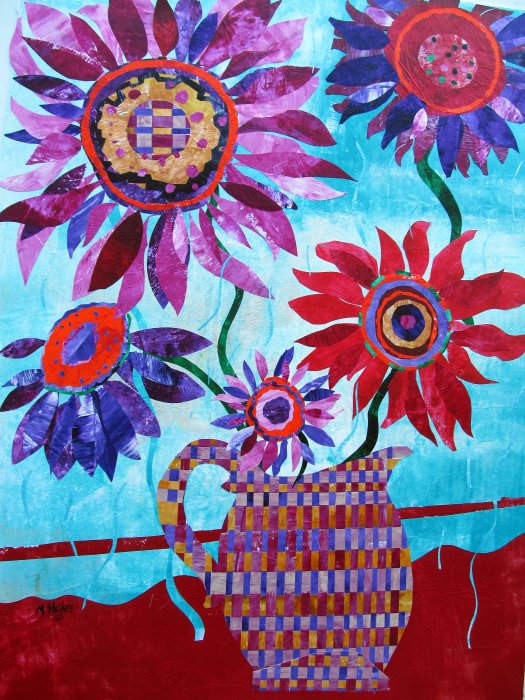 Rainy Day Sunflowers
Acrylic collage
My inspiration with sunflowers is limitless! I started a loose contour sketch using my photographs of our garden flowers, but the design changed from the initial idea. I cut and arrange the shapes and let it evolve on its own. I usually decide on a background hue first (here a limited palette of teal and reds) and then cut the floral shapes.
Early on, I had the idea to construct a different variety of vase and did a separate paper weaving for it. That was glued together, dried and then I cut the shape and experimented on the placement for it. The flower on the top right was started first, then various stems. Collage is a easy medium to work with and the challenge is with the design and colors.
Want to Buy It?
Format
Size
Price
Original

22″ × 30″

Flat crimson metal frame (29" x 37") with white and off-white mats

Print

8″ × 10″

Actual image size is 7.33″×10″.

Print

11″ × 14″

Actual image size is 10.27″×14″.

Print

16″ × 20″

Actual image size is 14.67″×20″.

Notecard Set

7″ × 5″

Package contains 6 designs of your choice on folded cards. Actual image sizes vary. Blank inside. Envelopes included.
*Frame and mats not included unless noted. Shipping costs are for the continental U.S. Ordering help & policies.