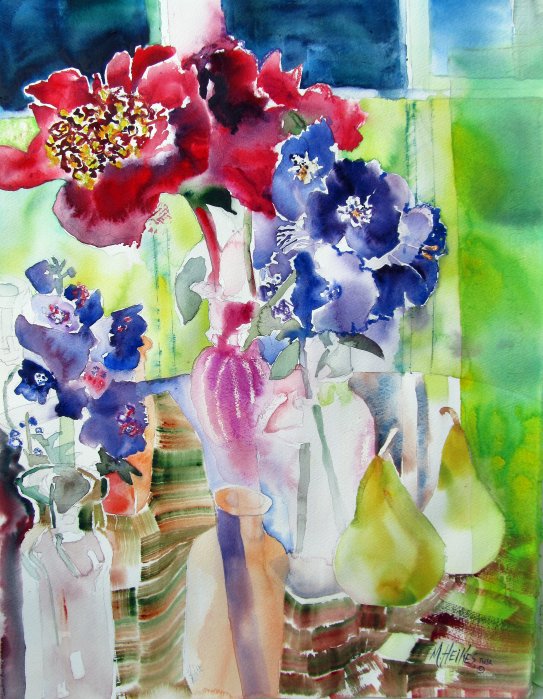 Outside Larkspurs & Peonies in Lime
Watercolor
My inspiration for this painting: these fresh cut flowers from my garden were gorgeous in color and begged to be painted! I never tire of painting flowers. Everything about them motivate me to paint them; the vivid colors and shapes and tiny details. When I observe flowers to paint, I always begin with lots of sketches using a variety of media: charcoal pencils, soft graphite sticks, colored pencils or ink. I enjoy sketching from life and draw both realistically and at other times sketch loose contours. Sometimes doing a gesture drawing describes the motion of the flower and is expressionistic instead of static.
My working method: I began by setting up some cut garden flowers in my mother's antique jars and bottles on a table outside in direct sunlight. The colors appear deeper and brighter to me, and I prefer taking the photos in strong sunlight. The pears were added to the composition because their shapes were interesting next to the jars. After taking numerous photos, I do some thumbnails to decide placement of objects. The design is drawn loosely on the watercolor paper. I use cold press Fabriano Artistico, 140 pounds; the pigments appear brighter on this brand of paper. It is my personal preference, having experimented with lots of different papers.
When I begin painting, I wet each shape separately on the paper and work wet-in-wet, allowing colors to mix together instead of mixing them on the palette. This manner works better than mixing on the palette because there is the tendency to over mix the pigments and end up with mud. I focused on painting the flowers first on damp paper and used pigments straight from the tube. As I worked my way around the shapes I decided to leave some areas less defined. Sometimes leaving out every detail adds a little mystery to the painting. I did not paint every reflection of the bottles and table. I ended up with some interesting shapes on the table and double loaded my brush with sienna and cadmium orange and wiggled the brush to depict a cloth around the bottles.
I was pleased with the end result, but the paper on the other side dried too fast and it ended up to be drybrush. Sometimes accidents are happy! The other challenge of watercolor painting is knowing when to stop. I loved the shapes and colors of the flowers — that was my major goal: a lively brilliant-colored bouquet with an interesting arrangement of fruit and jars.
Want to Buy It?
Format
Size
Price
Original

14″ × 21″

Silver metal frame (20" x 27") with white mat

Print

8″ × 10″

Actual image size is 6.67″×10″.

Print

11″ × 14″

Actual image size is 9.33″×14″.

Print

16″ × 20″

Actual image size is 13.33″×20″.

Notecard Set

7″ × 5″

Package contains 6 designs of your choice on folded cards. Actual image sizes vary. Blank inside. Envelopes included.
*Frame and mats not included unless noted. Shipping costs are for the continental U.S. Ordering help & policies.