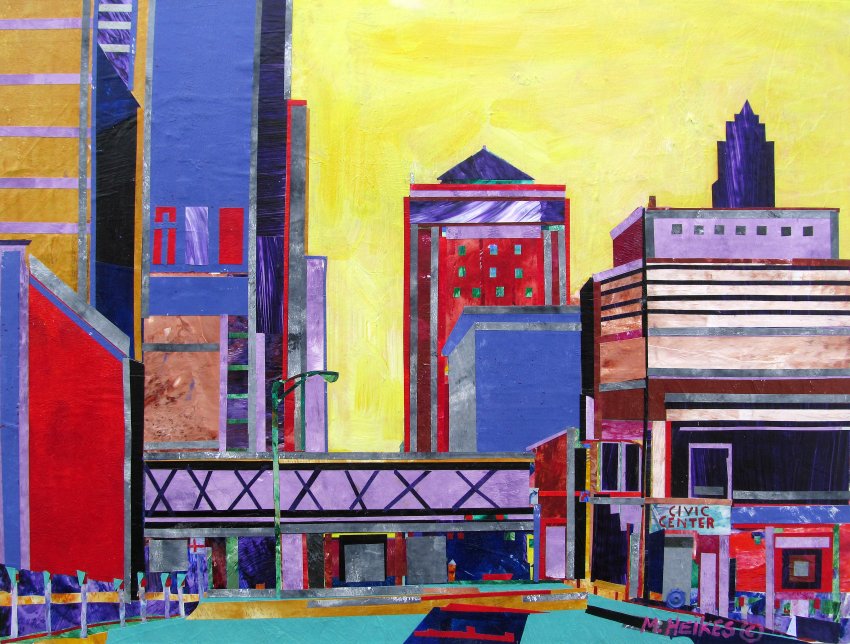 Skywalk/Civic Center, Des Moines, Iowa
Acrylic collage
The Des Moines landscape of interesting buildings, signage, vehicles and sky shapes captured my attention. All these shapes interlock and interest me. Cityscapes interest me and over the years I have painted many different locations in this city and I have found many interesting views and taken lots of reference photographs. And it is nice to notice the changes over the years: new businesses and old disappearing. There is an endless supply of material in painting cityscapes and I intend to take advantage of it. People recognize their favorite places and love the bright colors I use in my collages.
I began with a sketch to determine the placement of the buildings and the points of interest that caught my attention. The street runs under the skywalk system, leading the eye into the painting. The traffic signals and parking meters were interesting to me as well, and the Civic Center signage. Most of the shapes were simplified and edited as I constructed the design. Colors are an important factor in my work and I use my hand painted acrylic papers. The pigments are bright and full of texture, another characteristic of my work. In this composition, I used a dark, Dioxazine Purple for the darkest values. Other compatible colors were red, lavender, yellow ochre, teal, lemon yellow and beige.
I work the whole collage, interlocking shapes and colors next to each other using geometric shapes and weaving the horizontal plane with the vertical shapes. I use an X-Acto knife and ruler to cut straight edges and edit shapes and values as I create the design. I do not necessarily copy my pencil sketch, but allow for changes and I work on the design, making the composition stronger through use of colors. Shapes can be glued over colors I find unsatisfactory, one of the bonuses of working with collage. There's no such thing as a mistake! Change is for the good of the design. I was satisfied with the painting and feel it is very successful.
Want to Buy It?
Format
Size
Price
Original

22″ × 16 ½″

Flat crimson metal frame (28.5" x 21.5") with white mat

Print

8″ × 10″

Actual image size is 7.5″×10″.

Print

11″ × 14″

Actual image size is 10.5″×14″.

Print

16″ × 20″

Actual image size is 15″×20″.
*Frame and mats not included unless noted. Shipping costs are for the continental U.S. Ordering help & policies.