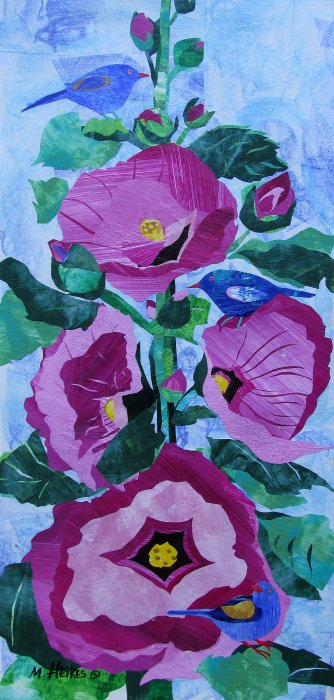 Hollyhocks and Bluebirds
Acrylic collage
The inspiration for this painting is the flower: hollyhocks. I am quite fond of these old-fashioned flowers. I have planted them in my garden and made sketches from life and take reference photos. I love the saucer shapes of the blossoms, the buds, leaves — every details describes this wonderful flower!
This design began with an odd-shaped frame I had in stock and a thought that either a sunflower or other tall flower would be great for the oblong shape. This occurs quite often — I work backwards and figure the image dimensions and mat margins for the frame and proceed. Because I began this in winter time, I used my reference photo and old sketches. Usually I do numerous sketches and edit the image using tracing paper to fit the dimensions.
A heavy 300 pound watercolor was used for the support, and I soaked it to remove some of the sizing. After the paper was dry, I chose a variety of colors from my hand-painted papers. Then I began cutting the large shapes of the blossoms and arranged them on the paper. I work around the shapes and tack down pieces of leaves, the stem and buds.
I felt the design was working well, but wanted to add some life to the composition. Birds came to mind. I had some sketchbook drawings that were appropriate for the design. I chose the color blue for the birds because I wanted to keep the colors in the cool range. It was difficult cutting some of the small shapes. The birds added interest and leads the eye around and through the composition. The main colors are pinks, purples, magenta and greens. For the background I depicted the sky using gestural strokes of oil pastel, then painted over it with wet washes of blues. It adds the necessary texture and interest to the painting.
Want to Buy It?
Format
Size
Price
Original

12″ × 29″

White wood frame (16.5" x 33.25") with white mat

Print

8″ × 10″

Actual image size is 4.14″×10″.

Print

11″ × 14″

Actual image size is 5.79″×14″.

Print

16″ × 20″

Actual image size is 8.28″×20″.
*Frame and mats not included unless noted. Shipping costs are for the continental U.S. Ordering help & policies.