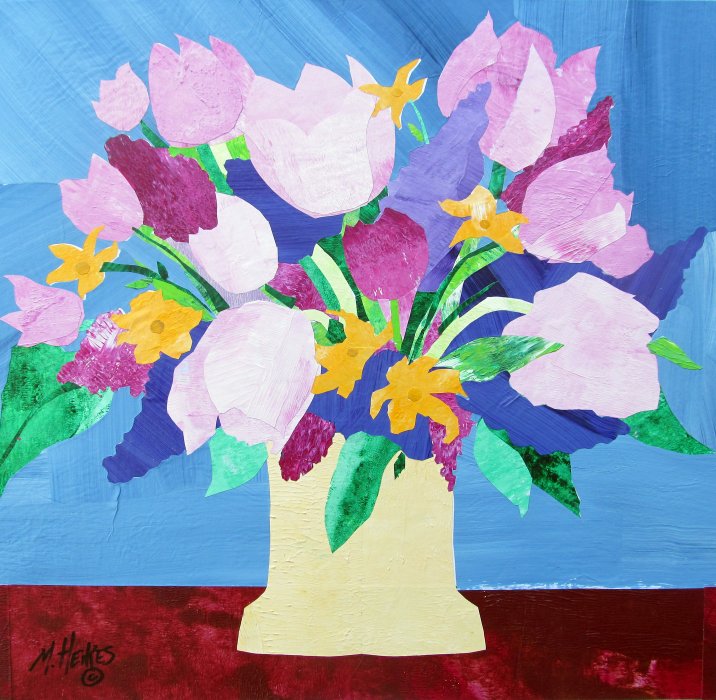 Lilacs, Lilies & Tulips
Acrylic collage
I'm always inspired to paint fresh flowers from my garden. The colors are vivid and luscious, and that is what I try to capture in my paintings. The shapes, leaves and stems — all the details inspire me to paint and draw these natural forms. I have eight sections of gardens devoted to flowers, and the blooming times vary to make sure I always have something to paint. I add and subtract to these every year and look forward to springtime.
The possibilities are endless when painting still lifes that include my garden flowers and collection of pots. My goal is to capture the lively patterns and luscious colors in an energetic, wet-in-wet painting style. I usually do a number of sketches from life and take reference photographs. I plan out the image and frame size before I begin, too. After sketching this arrangement, I decided to use a square format as it fit my drawing better than squeezing it into an oblong, narrow rectangle. It needed some breathing room!
For this bouquet I chose soft pinks, a magenta-rose and dark purple blossoms. My palette consists of my previously hand-painted colors which I keep in ample supply. Occasionally I have to stop and paint a specific color if I don't have one on hand. It sometimes takes a week to paint the papers, using heavy body acrylics, and allow a couple days drying time.
My support for this painting was an eight-ply archival matboard, which I wanted to try instead of the usual 300# watercolor paper. I cut the flowers out loosely with an X-Acto knife, ignoring details and concentrating on simple shapes, and tack the shapes down with a glue stick. During this process I allow for changes — layering shapes, adding more details, until I feel it is completed. I view the design with a mat which helps me critique it as a whole, and whether or not I need to alter a shape or color. I use either white Elmer's glue or acrylic gel medium to adhere all the papers to the support and apply a UV varnish in two coats after finishing.
Want to Buy It?
Format
Size
Price
Original

15″ × 15″

White wood frame (20" x 20") with white mat

Print

8″ × 10″

Actual image size is 8″×8″.

Print

11″ × 14″

Actual image size is 11″×11″.

Print

16″ × 20″

Actual image size is 16″×16″.
*Frame and mats not included unless noted. Shipping costs are for the continental U.S. Ordering help & policies.