Art in the Parks
June 27, 2008
I spent the week of June 16 in Ottumwa serving as the artist-in-residence for their Art in the Parks program. I began the day at 9am each day at Pickwick schools teaching a collage class to 4th–6th graders. I reviewed how to begin a design using simple shapes and explained about the variety of different papers to use. I brought some of my painted paper scraps, as well as maps, old stamps, magazines and others. I showed examples of my collages, as well as a pencil design of a barn to get them started. This class consisted of approximately 23 children and lasted for an hour. The kids were enthusiastic and completed a piece of artwork each day. I planned different collage projects daily, such as barns, favorite things,and Matisse-inspired collages.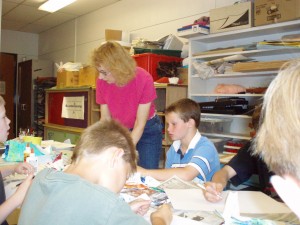 After that, I had a short break, allowing me time to commute to the next class — which began at Bell Park. The afternoon was at Memorial Park, and these varied with two other alternate parks on succeeding days.
In this class I taught Chinese Brush Painting with younger children — 1st–4th grades. Class sizes varied too. Instead of using a lot of colors, I decided to stick with black tempera paint and a large #6 bamboo brush to make things easier, had the kids paint their designs on colored construction paper. The absorbency helped the painting, since we were dealing with temperature changes each day. I began with instructing on the Four Gentlemen brushes strokes and concentrated on the bamboo stalks, nodes and leaves the first day. I brought and demonstrated other strokes and had samples of these designs which the kids copied. They got a chance to try the panda, dragon, flowers, and penguins. The second day I demonstrated various Chinese symbols: sun, moon, deer, horse, dance and others. I also taught calligraphy "June", "2008" and "America" in Chinese. They seemed to enjoy those.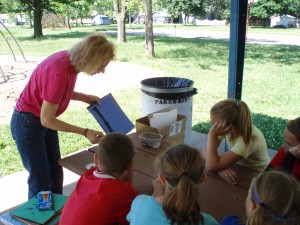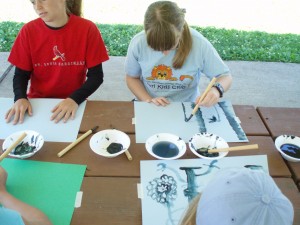 After the morning class at the park, I took a lunch break and afterwards proceeded to the second park for another Chinese Brush class with a different bunch of children. This schedule continued through Thursday. On Friday I began with the last collage class before going to Central Park in downtown Ottumwa to hang and display the best artwork from the kids at the bandshell. I was introduced at 11am, and many of the city residents were present to view the artwork and have lunch in the park. I also brought an easel and a few kids got a chance to paint their masterpiece in the park. All the children toured the exhibit on their way to their afternoon activity. After lunch, I drove to Pennsylvania Place, a senior citizens retirement community and gave a presentation. I brought samples of my watercolors and collages and explained my painting process and a little bit about myself as an artist.
I enjoyed the residency experience and had fun teaching the kids new and different techniques.  They were happy to learn about the collage and chinese brush painting styles — all their smiles were proof!