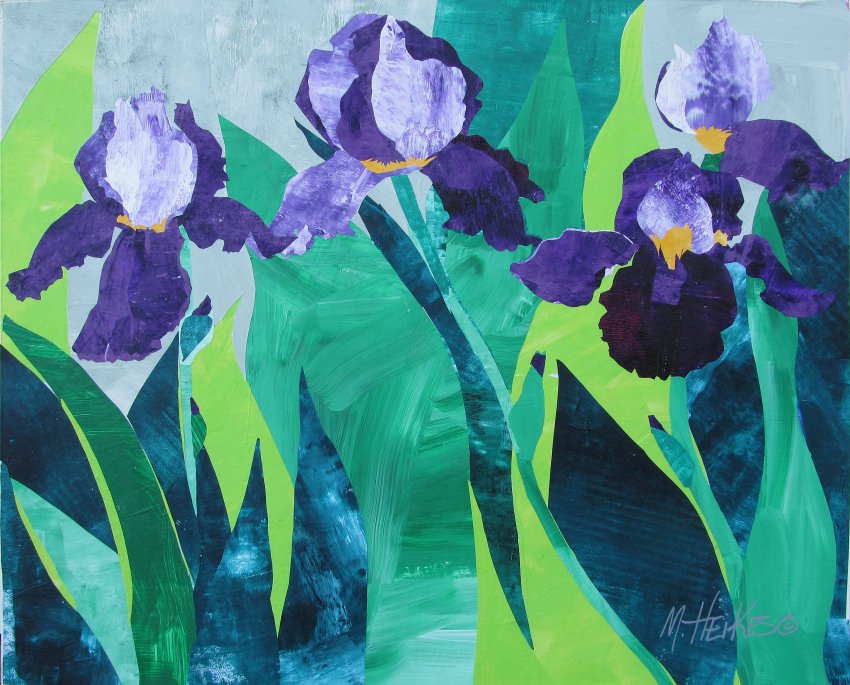 Bearded Iris in Purple
Acrylic collage
My inspiration for this painting was the frilly bearded irises in our garden. Beginning with numerous sketches from life, I didn't map out any preliminary pencil design. Instead, I chose the deep purple hand-painted collage papers from my stash and began cutting the large petal shapes of the iris.
Collage is very forgiving — I lay the big flower shapes on my support (gessoed hardboard) and move these around until the design looks pleasing to me. It is easy to add or subtract shapes to not get locked into a design. There's always room for improvement, and I can edit and change shapes or colors continuously. I tack the shapes down temporarily with a spot of glue stick and continue until I feel most of the design is going well. Then I use either Elmer's glue or acrylic gel medium to adhere the pieces to the board. Paper towels are used to soak up excess glues. Halfway through this process, I view it with a mat to critique it and check the compositional elements.
Want to Buy It?
Format
Size
Price
Original

30″ × 24″

Dark metal frame (36" x 28") with white and gray mats

Print

8″ × 10″

Print

11″ × 14″

Actual image size is 11″×13.75″.

Print

16″ × 20″
*Frame and mats not included unless noted. Shipping costs are for the continental U.S. Ordering help & policies.