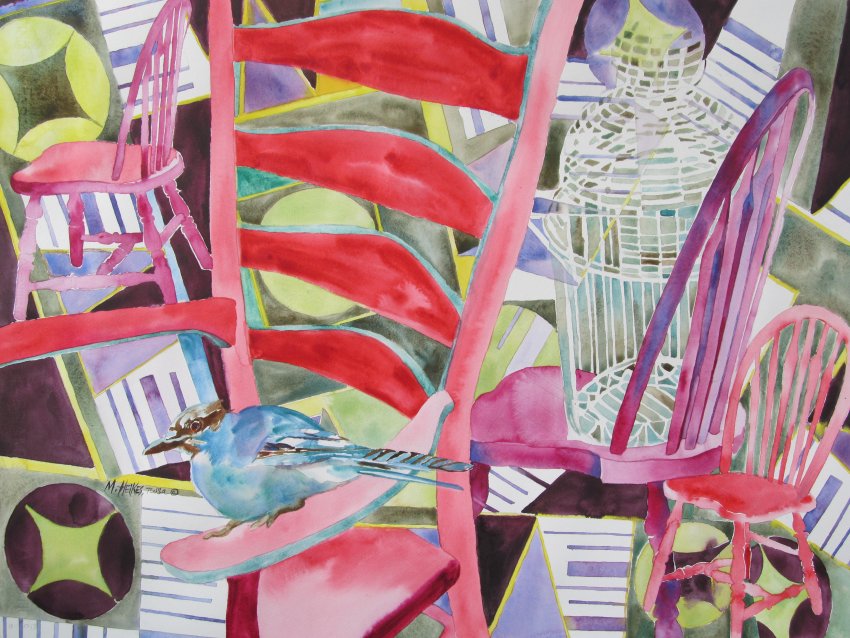 Birdgames
Watercolor
This piece is a reinvention of one of my favorite subjects: chairs. A challenge with this composition was adding non-related elements, as well as harmonizing the colors.
It all began with an elderly blue jay, who flew to our patio and just sat and sat. No movement. He perched on the water bowl for a long time, drinking. He seemed unafraid of us when we came close. We put him in our enclosed garden so the cat wouldn't catch him. I took numerous photos of him, as his spotted tail feathers caught my eye.
I began drawing in the main elements, the chairs, from my personal stash of reference photos. A photo of an antique birdcage came into play, and also an old Parcheesi board. I imagined the board juxtaposed among all the elements, in sections. Then I began painting, allowing the magic of the colors to flow into interesting shapes. The main colors are reds, grays, yellow, and highlights of blue and green.
Want to Buy It?
Format
Size
Price
Original

30″ × 22″

Metal frame (36" x 28") with white mat

Print

8″ × 10″

Actual image size is 7.33″×10″.

Print

11″ × 14″

Actual image size is 10.27″×14″.

Print

16″ × 20″

Actual image size is 14.67″×20″.
*Frame and mats not included unless noted. Shipping costs are for the continental U.S. Ordering help & policies.