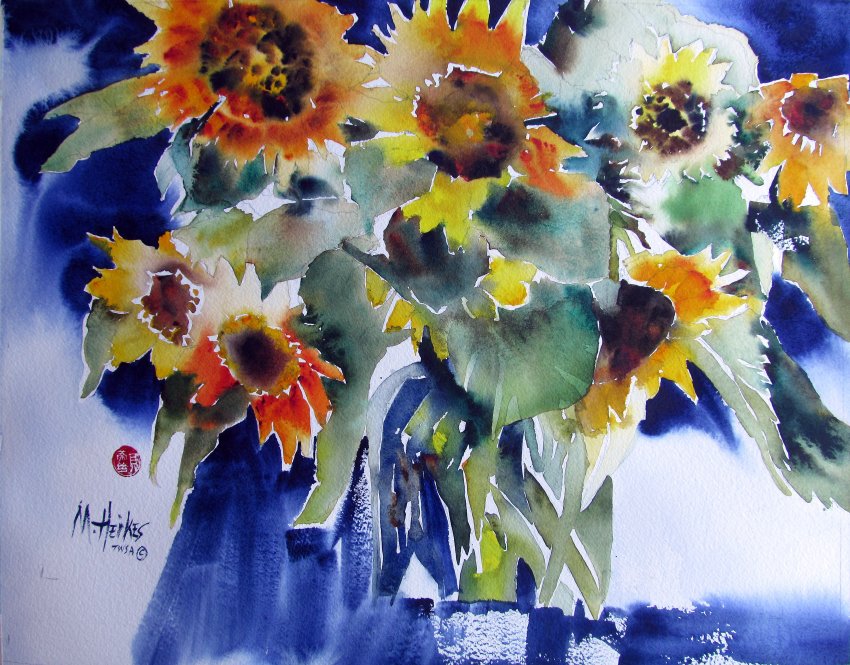 Cadmium Sunflowers with Indigo
Watercolor
I am beginning the new year by painting my bold and beautiful sunflowers. Every winter I begin thinking of my summer gardens and the cheery, large sunflower shapes. I have quite a collection of photographs taken throughout the year — bunches of these bright sunflowers in every kind of vase and bottle on my studio shelf. I never tire of drawing and painting sunflowers and plant a variety in my gardens — so many to choose from!
To best describe these shapes, I begin drawing with a thick-leaded 4B or 8B pencil and draw a loose contour determining shape and placement of each blossom. These were painted with a medium and light cadmium yellow with accents of quinacridone sienna and new gamboge. These warm yellows speak of sunshine and delightful, warm summer days. The leaf shapes were massed in groupings around the blooms in cool greens of viridian and thalo. The background is a simple wash of ultramarine, indanthrone and lunar blues. The dark values make the flowers pop against the deep blues and balances cool against warm tones of the painting.
Want to Buy It?
Format
Size
Price
Original

20″ × 16″

White metal frame (24" x 20") with white and gray mats

Print

8″ × 10″

Print

11″ × 14″

Actual image size is 11″×13.75″.

Print

16″ × 20″
*Frame and mats not included unless noted. Shipping costs are for the continental U.S. Ordering help & policies.