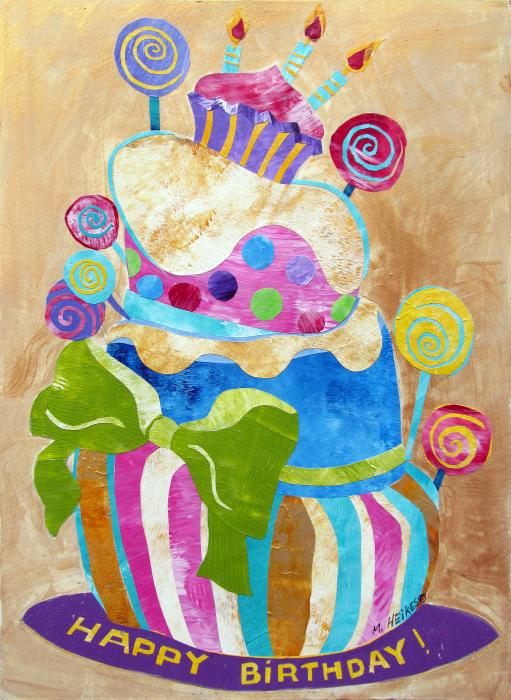 Caramel Buttercream Birthday Cake with Cupcake
Acrylic collage
This month it's a birthday cake theme in acrylic collage. I wanted it to be very special with three layers, lots of icing and decorations. I did a lot of sketches to begin formulating a design before choosing which one would work best for me. This is a vertical format, instead of my original idea of a horizontal one. It is a contemporary design and each layer is different.
It was fun deciding which colors I would use, and I went with a varied, striped icing on the bottom layer. There are so many variations that can be done with a cake. The middle layer is a solid blue to contrast and calm the bottom loud stripes. A green bow ties it together. The top layer has lots of frosting dripping over the sides, something I usually end up with on my cakes! I also had various ideas for the top of the cake. Why not a cupcake on top? I felt that was a delicious touch and another flavor of cake to boot. I did not have much room for candles since I was suddenly out of space. The lollipops were another decorating idea to put fun into the celebration.
Spirals seem to find a way into many of my designs, a symbol of growth. These patterns are repeating in the lollipops around the cake. The background was second to last in completing the design, and I usually save that because I concentrate on the positive shapes first. This dilemma was solved by using one of the colors in the cake for the neutral background, the caramel color. It's important for that color not to conflict with the design. It adds harmony and blends well with the birthday cake. The platter on the bottom was plain to begin with, and I decided to cut out and add the wording, which turned out to be more work than I thought it would be. It adds a nice touch to the cake design.
Want to Buy It?
Format
Size
Price
Original

11 ¼″ × 15 ½″

Print

8″ × 10″

Actual image size is 7.26″×10″.

Print

11″ × 14″

Actual image size is 10.16″×14″.

Print

16″ × 20″

Actual image size is 14.52″×20″.
*Frame and mats not included unless noted. Shipping costs are for the continental U.S. Ordering help & policies.