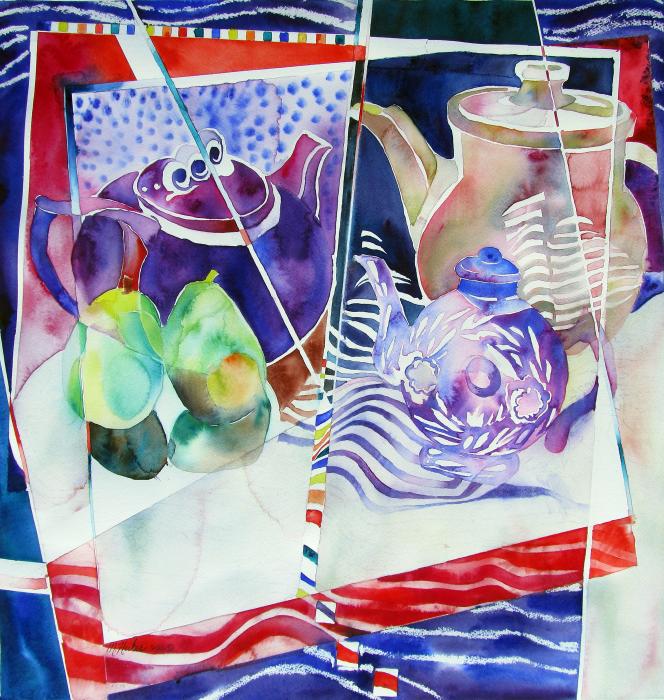 Teapot Series #17 – Lime Pears
Watercolor
I have decided to continue with my Teapot Series still lifes after reviewing some of my past work. This subject matter still intrigues me and I wonder where the future designs may lead. That is why I continue to paint — the surprise ending is well worth it! I do know that once I start painting, many more ideas will spring up as the painting proceeds. I have been inspired by Cezanne, Picasso and the other Cubists works and I enjoy playing with the different surfaces of planes and values.
This design includes three teapots, two pears on a dish and some whimsical fabric shapes woven throughout. I usually begin drawing the main images on the watercolor paper and add other shapes and edit as I go. I allow for changes along the way, strengthening values, shapes and colors. Most of the time I begin by wetting a section of the design and working in an additive manner. As I work, I stop occasionally and place a mat over it to critique the piece in progress.
Want to Buy It?
Format
Size
Price
Original

21 ½″ × 22″

Frosted metal copper frame (27" x 27") with white mat

Print

8″ × 10″

Actual image size is 8″×8.19″.

Print

11″ × 14″

Actual image size is 11″×11.26″.

Print

16″ × 20″

Actual image size is 16″×16.37″.
*Frame and mats not included unless noted. Shipping costs are for the continental U.S. Ordering help & policies.