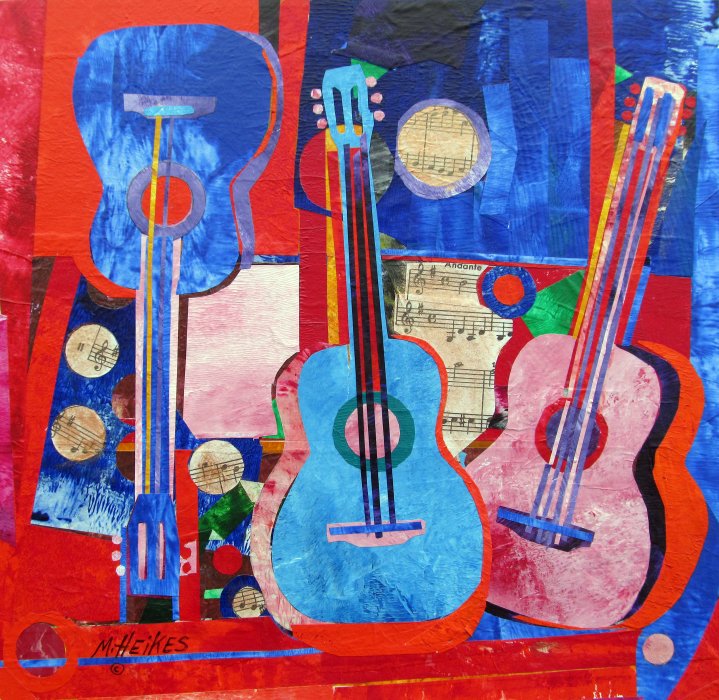 Good Vibrations #2 (Guitar Trio)
Acrylic collage
My idea was to re-work an old piece with the same title, but I ended up changing the whole design. There was a spark of an idea to add a guitar to an abstract piece and it kept evolving. The colors changed along the way too, which is one of the benefits working with collage. Any shape or color can be edited and one is able to keep working on the composition until it feels right to you.
After I added one of the guitar shapes, I kept playing with other shapes, moving them around until the design strengthened. It is an intuitive process for me and I enjoy the challenge. Years ago when I began this technique, I would pretty much adhere to my initial pencil design. I have learned to go a step farther by adding or changing shapes, editing the values or colors to make it a more interesting piece. One of my goals is achieving color harmony in a finished artwork. Another element is using sheet music, or other papers such as maps, wrapping paper, feathers, etc to the piece. I actually never know what the final result is until I get there.
I paint my collage papers with acrylic heavy body pigments on a lightweight paper, which allows me to layer them without the unnecessary thickness or bulkiness. The final work appears to be painted seamlessly when viewed from a distance, and many people have thought it was an actual painting done with a brush. Sometimes I will add a glaze over parts of the papers to achieve more depth. I like working in collage because there is unlimited potential to create a unique artwork.  My emphasis when working with collage is the fundamental structure using a preliminary drawing when I begin. For me, drawing gets the creative juices and ideas flowing.
Want to Buy It?
Format
Size
Price
Original

11 ½″ × 11 ½″

Black wood frame (19" x 19") with white mat

Print

8″ × 10″

Actual image size is 8″×8″.

Print

11″ × 14″

Actual image size is 11″×11″.

Print

16″ × 20″

Actual image size is 16″×16″.
*Frame and mats not included unless noted. Shipping costs are for the continental U.S. Ordering help & policies.