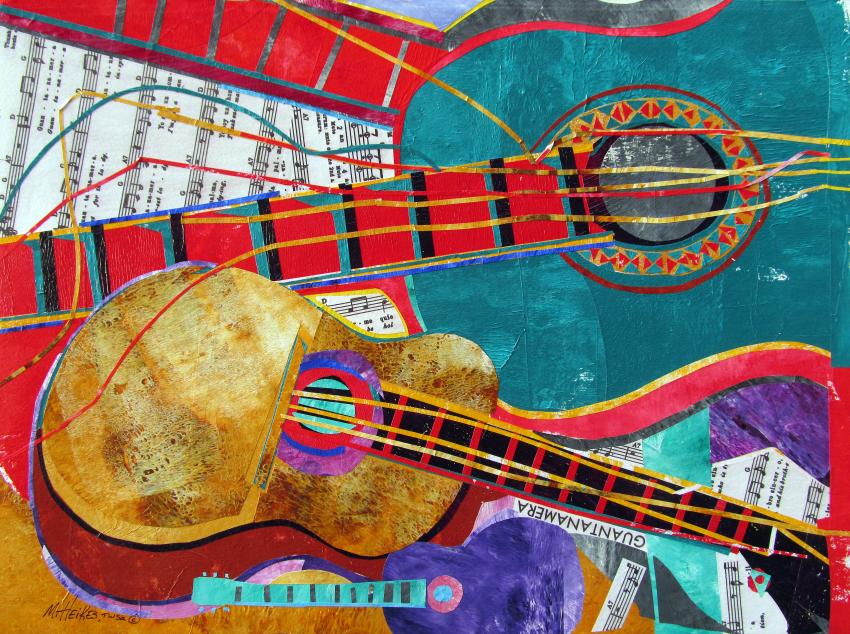 Singing Strings Guantanamera
Acrylic collage
This design was started back in October and I put it aside for a while to think about the composition and colors. Sometimes the creativity flows easily, and other times I feel unsure what direction to take. The colors were good to start with; I liked the teal, turquoise and reds and ochre. Then I got hung up on some details. The best thing to do is set it aside and work on something else.
Sometimes putting a mat around it helps see the values, shapes and general conflicts the design may have. An old song came to mind and I added some sheet music. Once I start playing around adding other shapes and accents, the composition starts to resolve itself. I worked from a sketch of my husband's old guitar, which has come undone, making some of the design elements more interesting. Collage is a forgiving medium to work with. Any adjustments, additions or corrections can be made by gluing another piece on top of the initial shape. That is one of the reasons why I paint my acrylic papers using a lighter weight paper and the finished result appears to be a painting, not a bunch of thick, heavily glued papers. The finished product is seamless and smooth. Using a paper towel and brayer also flattens the papers and removes any excess acrylic medium from the surface.
I was critiquing it the second time and realized that changing the format from vertical to horizontal would benefit the design. Finally it was nearing the finish. Just a few more additions to the surface were needed. I added more pieces of music papers over the bright yellow, which I thought didn't help the continuity of colors I began with. A limited palette always ensures harmony. I was pleased with the finished composition. For me, working with collage has unexpected surprises and is challenging and rewarding if you stick with it.
Want to Buy It?
Format
Size
Price
Original

19″ × 15″

Copper Metal frame (24" x 24") with white mat

Print

8″ × 10″

Actual image size is 7.89″×10″.

Print

11″ × 14″

Actual image size is 11″×13.93″.

Print

16″ × 20″

Actual image size is 15.79″×20″.
*Frame and mats not included unless noted. Shipping costs are for the continental U.S. Ordering help & policies.