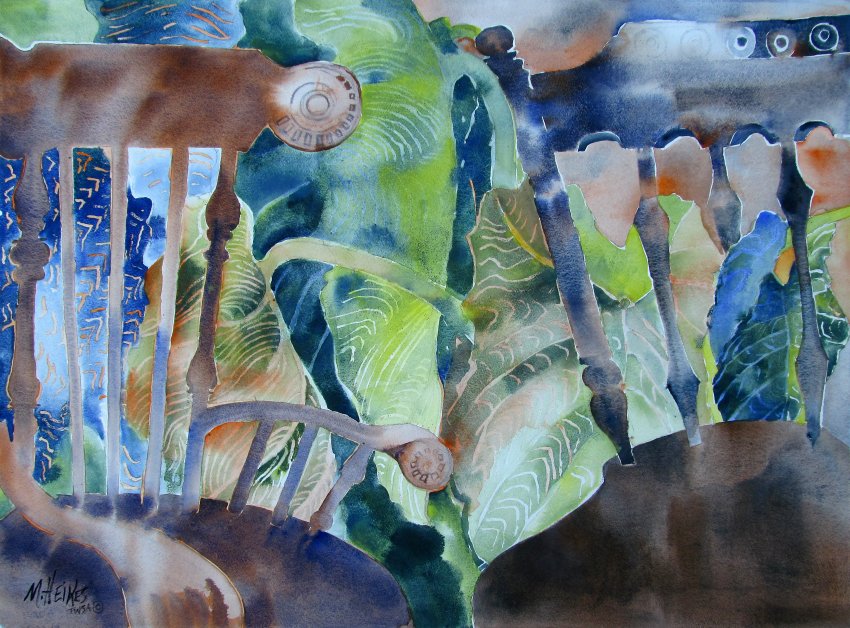 Chairs in the Jungle #135
Watercolor
This composition is a continuation of my series of chairs still lifes that I began back in the late 1980s. I was inspired by a workshop instructor who told us to paint what we love and by painting in a series you could see your progress as an artist over a period of time.  It is the variations of chair shapes that interest me, and by combining them with tropical plants or flowers I am able to create a unique design that is authentic to me. I challenged myself to continue to stretch my imagination and complete a few more of these fun designs. Elephant ears were added to the background and I used my photo of the plants from my garden.
Want to Buy It?
Format
Size
Price
Original

30″ × 22″

Copper metal frame (36" x 28") with white mat

Print

8″ × 10″

Actual image size is 7.33″×10″.

Print

11″ × 14″

Actual image size is 10.27″×14″.

Print

16″ × 20″

Actual image size is 14.67″×20″.
*Frame and mats not included unless noted. Shipping costs are for the continental U.S. Ordering help & policies.