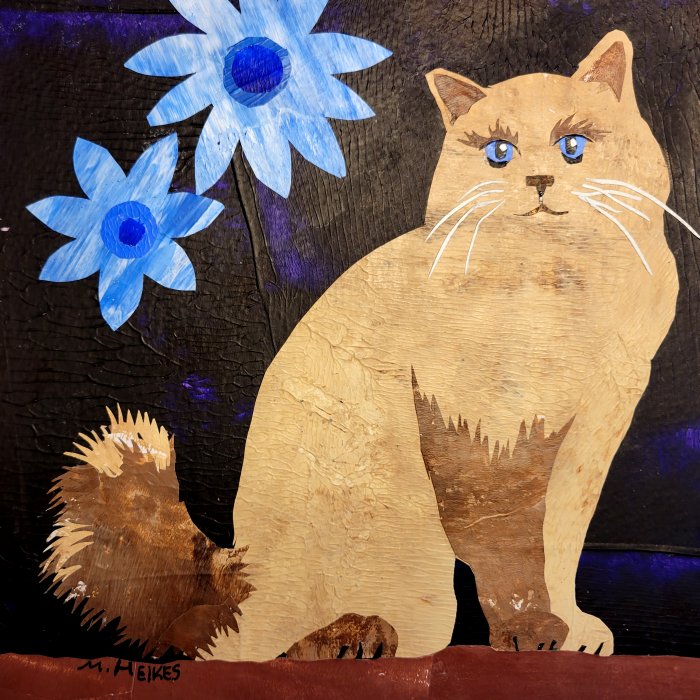 Cocoa Blue
Acrylic collage
The collage technique is perfect for creating birds and animals. Cats are one of my favorites to recreate in acrylic collage.
Using my sketches and hand-painted papers, this design was created with the local colors. Her expressive blue eyes and long, fluffy coat captured my attention.
Occasionally, I enjoy using this square format and working a little smaller, size-wise, than I usually do. I began doing acrylic collages in 1985 in this size with Iowa barns as the subject matter. I have expanded my subject matter since to include florals, figures and others. Collage art can be done by anyone, and I have taught classes in it for all ages. Materials are accessible, and students learn to simplify shapes without depending on details, and the results satisfy them.
Want to Buy It?
Format
Size
Price
Original

7 ½″ × 7 ½″

Black wood frame (10.5" x 10.5") with tan and brown mats

Print

8″ × 10″

Actual image size is 8″×8″.

Print

11″ × 14″

Actual image size is 11″×11″.

Print

16″ × 20″

Actual image size is 16″×16″.
*Frame and mats not included unless noted. Shipping costs are for the continental U.S. Ordering help & policies.