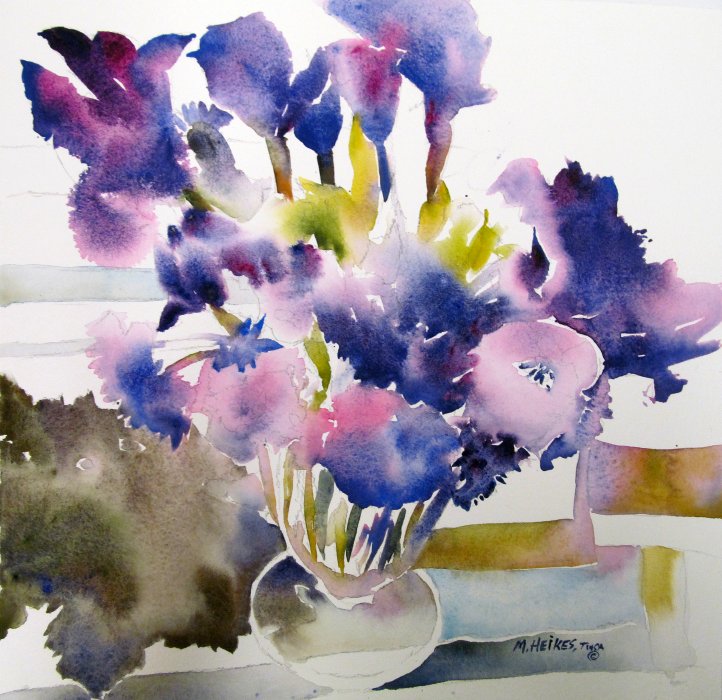 Early Summer Irises
Watercolor
Floral bouquets have to be one of my favorite subjects to paint. These short irises are a vivid blue violet and wonderful to paint! I have done many pencil drawings of these beauties that grow in my garden. I always look forward to spring and they pop up with the grape hyacinths.
After picking a bunch of these irises, I arranged them in a cup and took numerous photographs. Then I sketch them using a fat pencil, usually 4B or 6B and draw my impression of these wonderful shapes of the petals, stems and greenery. I do not limit myself to one sketch, but do a series of drawings on various sizes of papers and sketchbooks. Occasionally I add some loosely-scribbled colored pencil over the sketch.
Brilliant colors are a big part of my life and that is what people remember about my work: vivid colors and strong designs. In the winter when I am inspired to paint some flowers and add some color into my life, I pull out a sketch from the summer, load up my palette with various pigments, and paint away!
I transfer my sketch to the archival watercolor paper by taping the sketch underneath the paper on a window or door, which is a natural lightbox. This is the reason for completing a variety of sizes. I fit the sketch to the paper size and it is a lot easier than projecting the image. I usually work from life because a photo is flat, and more details are evident working with the subject matter in front of you. My favorite watercolor papers are Fabriano Artistico and d'Arches, in either a 140 lb or 300 lb weight. I do stretch the paper before beginning to paint. Most of my artist pigment are Daniel Smith, M. Graham or Holbein. A butcher's tray serves as my palette. I used a limited palette of ultramarine blue and violet, cobalt blue, quinacridone magenta, cadmium yellow, raw sienna and hooker's green.
Want to Buy It?
Format
Size
Price
Original

14″ × 14″

No frame (16" x 16") with white mat

Print

8″ × 10″

Actual image size is 8″×8″.

Print

11″ × 14″

Actual image size is 11″×11″.

Print

16″ × 20″

Actual image size is 16″×16″.
*Frame and mats not included unless noted. Shipping costs are for the continental U.S. Ordering help & policies.