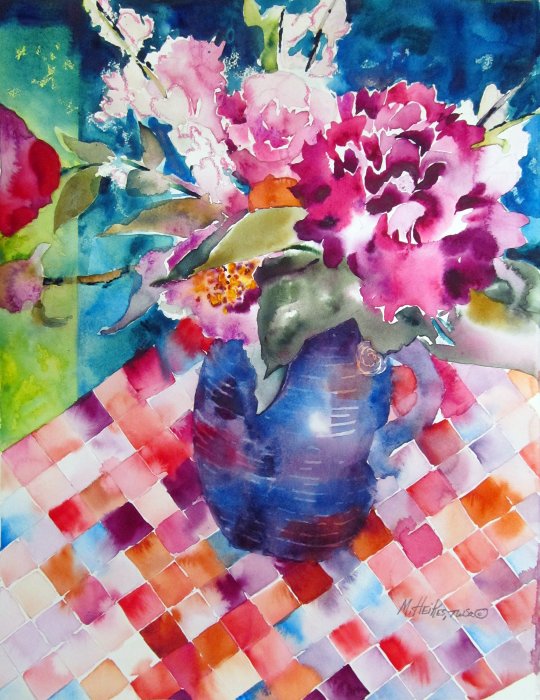 Peonies & Bleeding Hearts Bouquet on Red Checkered Cloth
Watercolor
I am always inspired to paint fresh flowers from my garden and these peonies and bleeding hearts were no exception. Most of the time I pick them and arrange them casually in different vases in my collection and take lots of photographs because they don't last very long. Once they open up, after a few hours, the petals start dropping.
I enjoy painting the pale pink variety and the deep, crimson colors. The Chinese call peonies the king of flowers because of the many petals they have and their large size. I love the shapes of these big blooms along with the bleeding hearts. I changed the vase color, as the color would have competed with the foliage of the plants.
Beginning with a detailed pencil drawing, I completely wet the paper on both sides to remove some of the sizing. While it is almost dry, I begin to paint using pigments that I have arranged on two palettes. Sometimes I dip the brush into the tube and use a lot of juicy pigments for the mid-to-deepest values and let the colors blend naturally on the paper. I sometimes add more water and flood the areas to allow the pigments to spread and blend in unusual color combinations. If the paper gets too dry, I re-wet certain areas or shapes, and paint wet-in-wet technique to combine soft, wet shapes with hard-edged ones.
For the peonies I used quinacridone pink, rose and magenta. I decided a background of a complementary hue. I was undecided on the foreground and left it sit for a few days so I could think about it. Previously to beginning this painting, I had worked on some experimental "color chords" of reds and pink squares. I really liked the soft edges and decided it would be great to use in the foreground of this painting. I was pleased with the finished painting — it is alive with bold colors and sings with the complementary warm and cool greens.
Want to Buy It?
Format
Size
Price
Original

14 ½″ × 19″

White wood frame (18" x 22.5") with white mat

Print

8″ × 10″

Actual image size is 7.63″×10″.

Print

11″ × 14″

Actual image size is 10.68″×14″.

Print

16″ × 20″

Actual image size is 15.26″×20″.

Notecard Set

7″ × 5″

Package contains 6 designs of your choice on folded cards. Actual image sizes vary. Blank inside. Envelopes included.
*Frame and mats not included unless noted. Shipping costs are for the continental U.S. Ordering help & policies.