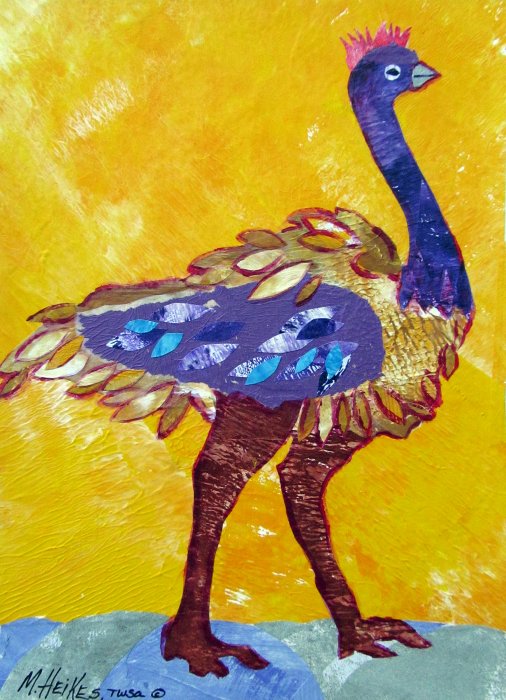 Red-Haired Ostrich / Walking on Eggs
Acrylic collage
Birds are a favorite subject matter of mine. I decided to do this unusual zoo bird, dancing on some eggs. The challenge was to do something different with the design. I placed it in a warm climate with its huge body, long neck and funny red hair and chunky, brown legs.
I used one of my contour sketches as a starting point, and chose acrylic papers from my hand-painted collection. A few times a year I will paint more papers with acrylic pigments, so I will have enough in stock when ready to begin a new collage. Sometimes I am looking for a color that's not in my stockpile, so I will specially paint that particular color. In the beginning of working this design, I choose colors that either complement each other, or work with analogous varieties. I also look for interesting textures among the papers that will describe my subject. For the foreground, the idea of eggs popped into my mind. The bright yellow background works well with the gray and lavender eggs on the bottom of the design. For accents, I used a few teal feathers in the main wing.
One of the most elements for working in collage is to sketch daily so I never run out of ideas. This collage was done in the "alla prima" technique; completed in one sitting. So far, I have done collages of Love Birds, Toucans, Chickens, Roosters and Ostriches.
Want to Buy It?
Format
Size
Price
Original

6 ½″ × 9″

No frame (11" x 14") with white mat

Print

8″ × 10″

Actual image size is 7.22″×10″.

Print

11″ × 14″

Actual image size is 10.11″×14″.

Print

16″ × 20″

Actual image size is 14.44″×20″.
*Frame and mats not included unless noted. Shipping costs are for the continental U.S. Ordering help & policies.