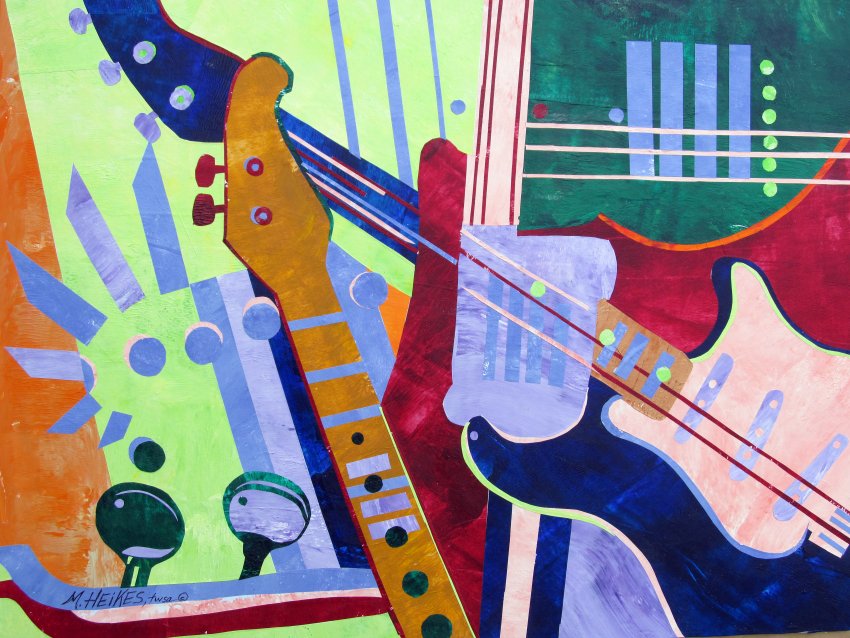 Rock n Roll
Acrylic collage
This particular design of my daughter's electric guitar has been on my mind for a long time. I worked from some old sketches and photographs, but also did a series of just sections of this instrument. Most of the time I use tracing paper to compile my sketches, then edit during the process of designing the composition.
As I began cutting the colors and shapes, my design changed and evolved into something different from what I thought would be the final composition. That happens a lot. It is good to go with the flow and change if it's needed. I also altered the major colors halfway through the process. I was pleased with the painting when it was completed. Sometimes half the fun is not knowing how it will turn out at the end — surprises can be pleasant!
The support for this collage is an Ampersand Hardboard Panel and has been primed with Acrylic Gesso.
Want to Buy It?
Format
Size
Price
Original

24″ × 18″

Unframed with no mat

Print

8″ × 10″

Actual image size is 7.5″×10″.

Print

11″ × 14″

Actual image size is 10.5″×14″.

Print

16″ × 20″

Actual image size is 15″×20″.
*Frame and mats not included unless noted. Shipping costs are for the continental U.S. Ordering help & policies.