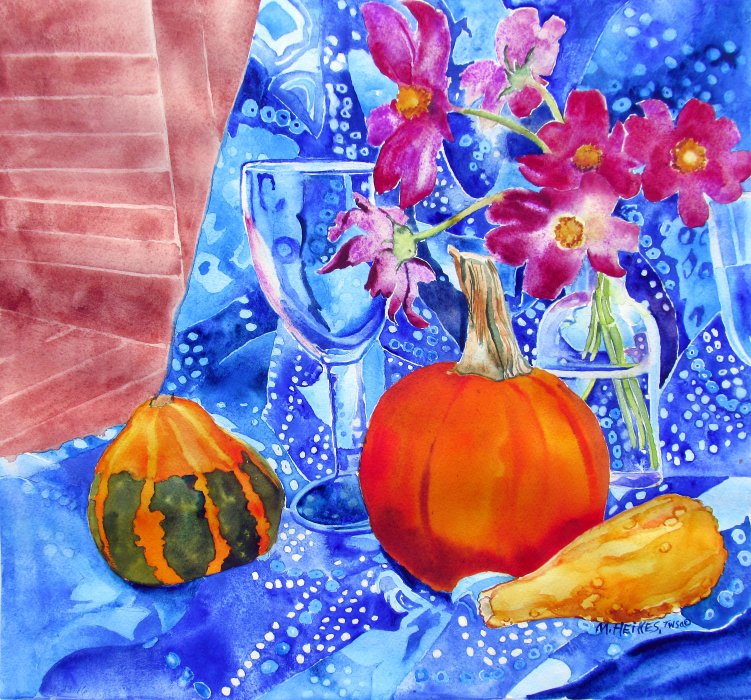 Gourds on Blue
Watercolor
My idea was to set up an Autumn still life with fabrics, flowers and fruit. I chose a mini-pumpkin and decorative gourds and set them on a patterned blue-spotted fabric. Patterns galore! The lovely complementary blue color sets off the oranges, yellows and reds. I picked some of the last cosmos blossoms from my garden and set them in an antique bottle. It didn't take long to set up the still life outside and the wind was gently blowing the flowers while I snapped some reference photos. Drawing the design on the Fabriano watercolor paper takes the longest time. Once I get the shapes in place, I begin painting. Because the cloth is very detailed, it took longer to paint the patterns on it. The finished painting is successful because it describes the season and follows the principles of good design.
Want to Buy It?
Format
Size
Price
Original

15″ × 16″

German silver metal frame (20" x 20") with white mat

Print

8″ × 10″

Actual image size is 8″×8.53″.

Print

11″ × 14″

Actual image size is 11″×11.73″.

Print

16″ × 20″

Actual image size is 16″×17.07″.
*Frame and mats not included unless noted. Shipping costs are for the continental U.S. Ordering help & policies.