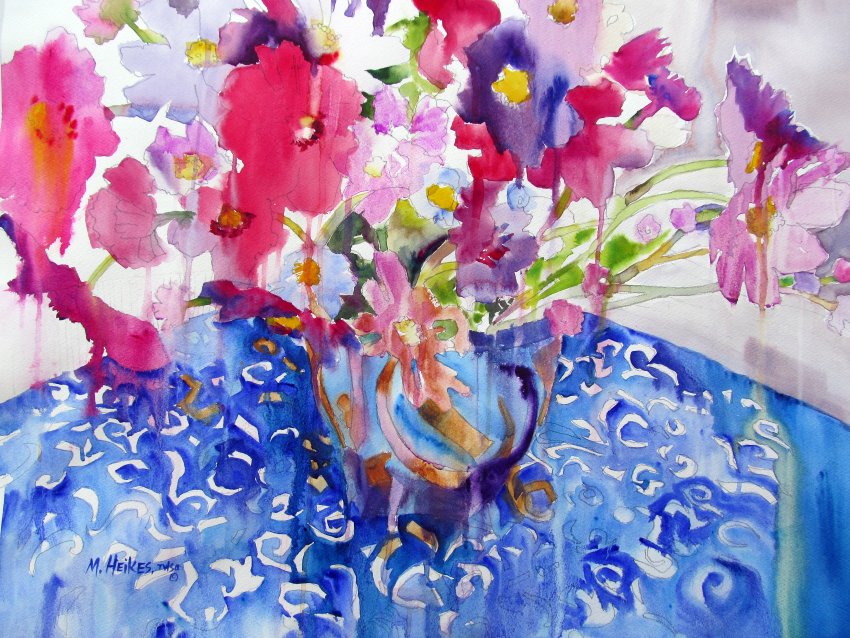 Raspberry Cosmos on Blue Cloth
Watercolor
Still lifes are my favorite subject matter because the possibilities are endless. This is a bunch cosmos from this year's garden. It takes me a while to decide what to include in the set-up, and I chose to paint them in a special vase with a favorite patterned fabric.
I begin by drawing the design on watercolor first, then soaking the paper in water, loosening the sizing so the pigments will be receptive on the surface. The ultramarine, cerulean and cobalt blues contrast with the pinks and purples of the flowers. Some of the shapes on the cloth are echoed in the shapes on the vase.
The challenge was to paint this watercolor using my easel, and allowing the pigments to blend with each other, wet-in-wet. Occasionally I will double load my brush and paint the shape with two or more colors. The results of the pigments blending on the wet paper creates interesting mixtures. During the painting session, I frequently spray more water on the paper to keep it moist. Working with big shapes and value patterns make this a successful painting, including the watery drips.
In the future, I plan to do more still lifes using my garden flowers and collection of objects. I strive to create both a dynamic design and bold colors in my watercolors. Sometimes I will complete a series of paintings using the same subject matter and challenging myself to do something unique with each one. This painting began as a demonstration and was completed at my studio.
Want to Buy It?
Format
Size
Price
Original

24″ × 18″

Antique gold metal frame (28.5" x 22.5") with single white mat

Print

8″ × 10″

Actual image size is 7.5″×10″.

Print

11″ × 14″

Actual image size is 10.5″×14″.

Print

16″ × 20″

Actual image size is 15″×20″.
*Frame and mats not included unless noted. Shipping costs are for the continental U.S. Ordering help & policies.