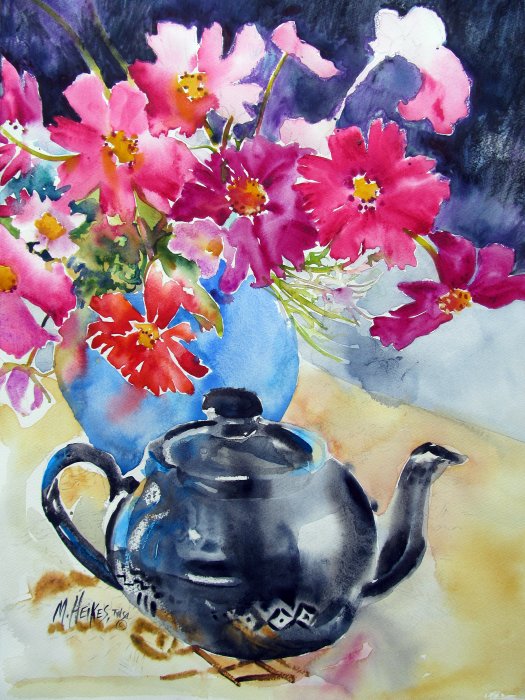 Ebony Teapot #2 on Indian Fabric
Watercolor
My inspiration for this watercolor was the contrast of the shiny black teapot against the luscious colors of the cosmos bouquet. I had already completed a similar design, and decided to do another because the shapes of the flowers were so fresh and inviting.
My method of painting still begins with sketches of the bouquet, both from life and working from my photograph. When I set up this still life, I take numerous photos and also change some of the elements. Some of the fabrics I have used have intricate designs. This particular fabric has earth tones and playful triangles, dots and wiggly lines that add interest to the flowers and teapot. My plan was to add some crayon for texture in the bouquet and background. I do not soak my watercolor paper initially, but wet down areas while working around the composition, tying the elements together. I work wet-in-wet using pigments straight from the tubes and adding more water to achieve the blooms or cauliflower accents. I find it best to allow the pigments to blend on the paper instead of mixing them on the palette. I use a variety of round brushes. I also use complementary colors which seem to vibrate when placed next to each other. I do use lots of water during painting to achieve a wet-looking painting. The flowers were painted with the quinacridone series of rose, pink, magenta and violet.
Thoughts on the finished painting: It is a successful watercolor because the design was simplified and the details were suggested. When I finish the painting, I view it with a white mat which encloses the design and helps critique it. It is not always easy to determine whether a painting is finished or not. I felt that using the crayon for accents on damp paper adds extra texture and interest to the design. I will be painting more floral bouquets in the future — they are guaranteed to freshen any room and add a spot of color.
Want to Buy It?
Format
Size
Price
Original

14″ × 18″

Antique gold metal frame (20" x 24") with white mat

Print

8″ × 10″

Actual image size is 7.78″×10″.

Print

11″ × 14″

Actual image size is 10.89″×14″.

Print

16″ × 20″

Actual image size is 15.56″×20″.
*Frame and mats not included unless noted. Shipping costs are for the continental U.S. Ordering help & policies.