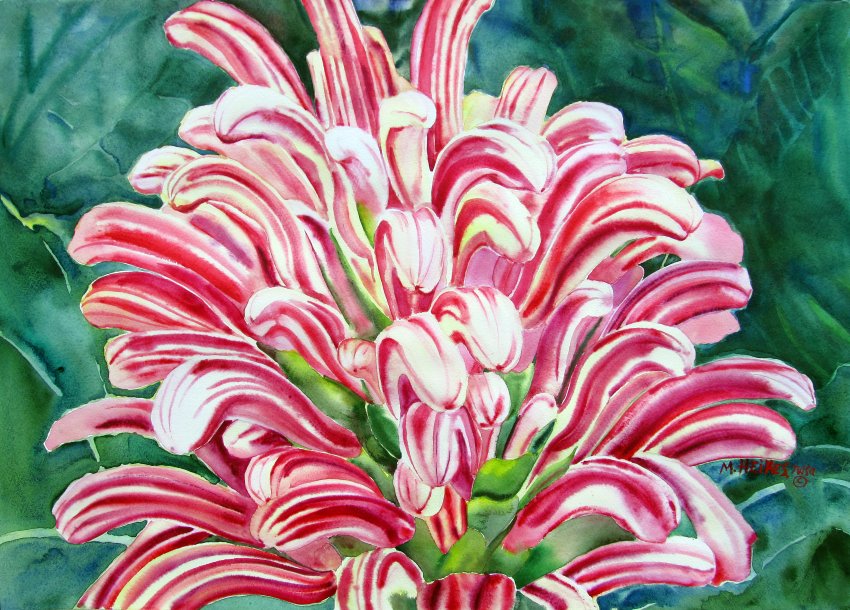 Pink Bromeliad
Watercolor
I am continually searching for interesting flowers to paint. This is a big, beautiful bloom at the Botanical Center in Des Moines. These finger-like petals sprout from the center of the plant on a large stalk. Tropical plants always have bold colors, and their leaves have fun details to paint. I painted the flower shape much larger to emphasize its importance and used dark values to make the flower "pop". Although I started painting the background in sections with a variety of blues and greens, I washed over another layer of thalo green to increase the value, and eliminated most of the details on the leaves to keep the pink flower the center of interest.
Want to Buy It?
Format
Size
Price
Original

22″ × 15″

Silver metal frame (29" x 22.5") with single white mat

Print

8″ × 10″

Actual image size is 6.82″×10″.

Print

11″ × 14″

Actual image size is 9.55″×14″.

Print

16″ × 20″

Actual image size is 13.64″×20″.
*Frame and mats not included unless noted. Shipping costs are for the continental U.S. Ordering help & policies.