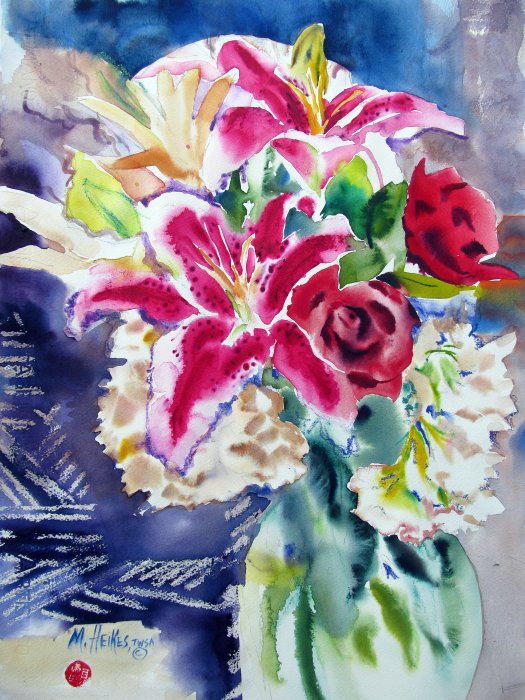 Annie's Bouquet (Stargazer Lilies & Red Roses)
Watercolor
The main inspiration for this painting was a fresh flower bouquet displayed at the open house at Artisan Gallery 218 in February. The hues of the flowers were bold and vibrant. The combination of the different floral shapes were interesting: the stargazer lilies with creamy pale green buds among the deep crimson roses. These contrast with the texture of the wiggly sticks and white hydrangeas. I worked from my reference photos — I move the bouquet to different viewpoints and photograph it from many angles.
My method of painting has developed over the years and I work intuitively. Most of my floral watercolors are done from my flower gardens and props in my studio. I do a light pencil sketch on the Fabriano Artistico paper, just blocking in basic shapes; details are eliminated because I want to work loosely and add a variety of different elements that enhance the design.
None of the background of my photo was used, as it was distracting and the shapes did not add any interest to the composition. Instead I used a brightly colored gift wrap pattern in the dark areas and used a clear wax stick for the textured area. I also used some Caran d'Ache watercolor crayons to draw some of the leaves and stems. When beginning the painting, I will wet the shapes first, using lots of water with a number ten round brush. I paint straight from the tube using lots of pigment and drop onto the damp paper. This allows the colors to blend on the paper instead of mixing on the palette. I find this works better for me. Sometimes I draw directly into the wet areas with the watercolor crayons to achieve soft edges.
This is a successful painting because of the vivid colors and dynamic design of the flower arrangement. The watercolor has a wide range of values and captures the vitality of the petals.
Want to Buy It?
Format
Size
Price
Original

13″ × 19″

Frosted walnut metal frame (18" x 24") with white mat

Print

8″ × 10″

Actual image size is 6.84″×10″.

Print

11″ × 14″

Actual image size is 9.58″×14″.

Print

16″ × 20″

Actual image size is 13.68″×20″.

Notecard Set

7″ × 5″

Package contains 6 designs of your choice on folded cards. Actual image sizes vary. Blank inside. Envelopes included.
*Frame and mats not included unless noted. Shipping costs are for the continental U.S. Ordering help & policies.