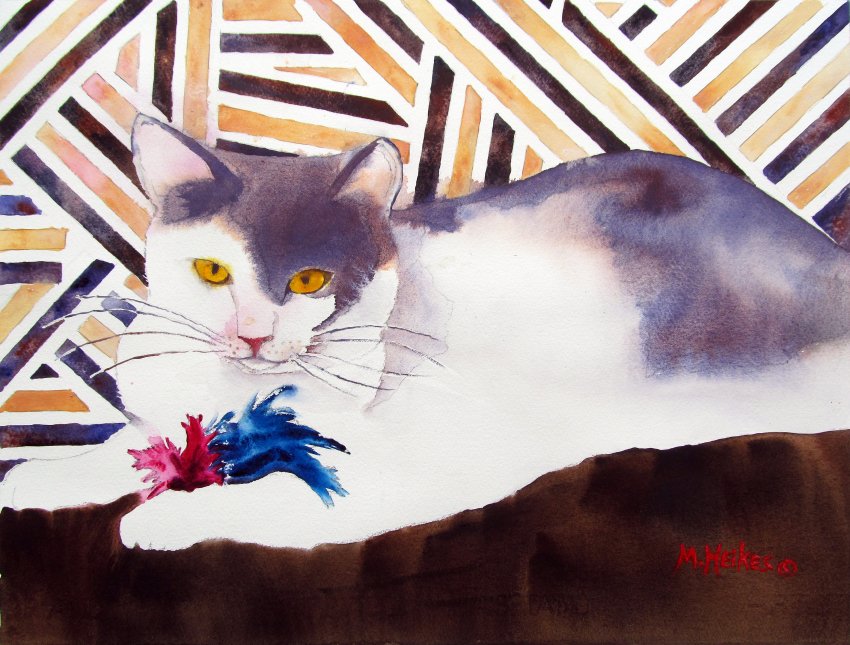 Porkchop
Watercolor
Painting cats has always been fun for me because I have plenty of active models to work from, and I love cats. This particular gray and white cat is one we saw and petted at Purrington's, a cat cafe in Portland, Oregon. They house numerous cats that are up for adoption. Porkchop was mellow and laid back. I took photos of him to work from later. He was playing with a feather toy, a perfect prop.
After doing the same size sketch, I transferred it to a piece of 100% rag Fabriano watercolor paper. The paper was stretched and taped to a foamboard which is a firm support to paint on. My painting is painted in the wet-in-wet technique to begin with, and also drybrush and blending the values, which results in a soft, realistic watercolor. The background was plain, so I decided to add some patterned gift wrap to add interest to the design. Most of my pigments are Daniel Smith or Graham artists quality. This was painted in the "alla prima" method, or one sitting.
Want to Buy It?
Format
Size
Price
Original

17″ × 13″

No frame (20" x 16") with dark brown suede mat

Print

8″ × 10″

Actual image size is 7.65″×10″.

Print

11″ × 14″

Actual image size is 10.71″×14″.

Print

16″ × 20″

Actual image size is 15.29″×20″.

Notecard Set

7″ × 5″

Package contains 6 designs of your choice on folded cards. Actual image sizes vary. Blank inside. Envelopes included.
*Frame and mats not included unless noted. Shipping costs are for the continental U.S. Ordering help & policies.