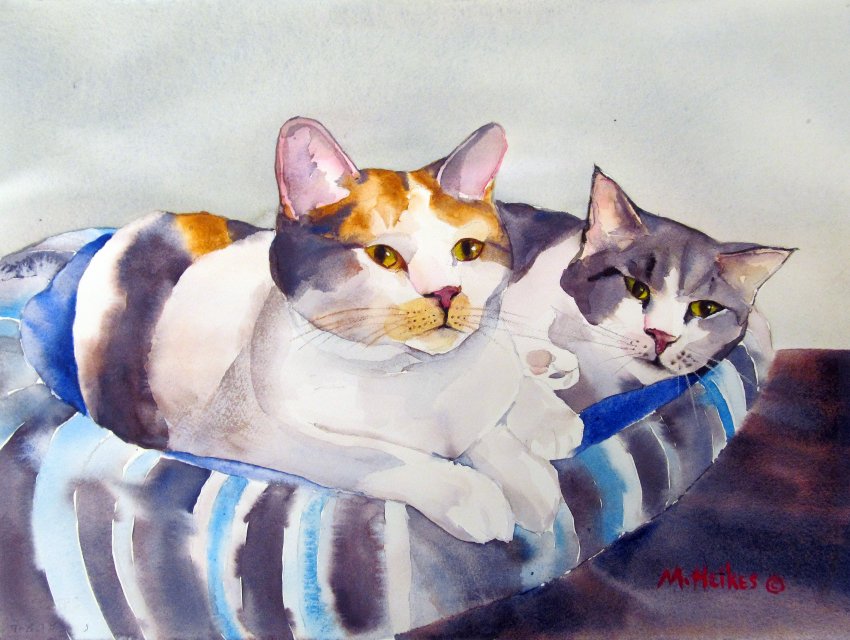 Sisters
Watercolor
Cats are a favorite subject matter to paint. I used a photo taken of our two sisters, Siobhan and Keiko. I loved painting the contrast of the calico with the mixed tabby and white markings. Pets are notorious for not keeping still for a photograph. I got lucky and took numerous pictures of these sisters tucked into their pet bed before they moved.
I always do a series of sketches using a dark soft pencil as Ebony or 6B before stretching my watercolor paper and transferring the sketch. To achieve the softness of their fur, I painted on damp paper while blending the colors. Grays were mixed using a cobalt and ultramarine blue with cadmium orange.  The design worked well and I captured their typical expressions and unique markings.
Want to Buy It?
Format
Size
Price
Original

15″ × 11″

White ornate wood frame (20" x 16") with double white mats

Print

8″ × 10″

Actual image size is 7.33″×10″.

Print

11″ × 14″

Actual image size is 10.27″×14″.

Print

16″ × 20″

Actual image size is 14.67″×20″.
*Frame and mats not included unless noted. Shipping costs are for the continental U.S. Ordering help & policies.