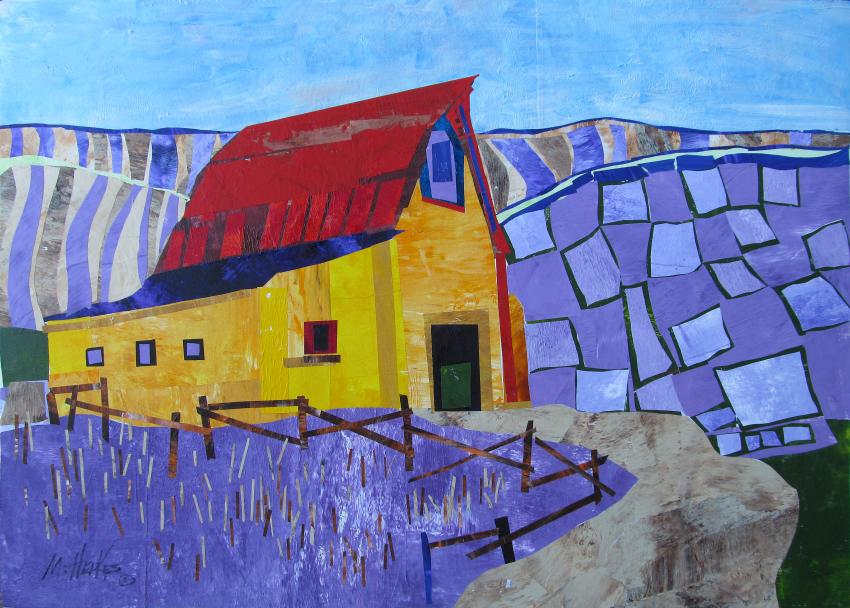 Quiltscape
Acrylic collage
All my paintings and collages belong to a series of work, in various categories.  I have been painting Iowa landscapes since early 1985. Most of these barns have disappeared from the landscape. They are full of character with their geometric shapes — all are very different and interesting to me.
This piece is a section of landscape, taken from an old photo of mine. Something I enjoy while working on collages is being able to invent and manipulate the shapes and colors into a new design with a stronger composition. I do not plan colors and shapes ahead of time. The patchwork quilt shapes changed colors three times before I was satisfied. I continued to edit the colors until the colors harmonized and gave the appearance of a unified landscape. Sometimes everything falls into place easily, and other days it is a struggle. The final result was pleasing to the eye and I felt the elements of design were evident.
Want to Buy It?
Format
Size
Price
Original

28″ × 20″

Gray metal frame (36" x 28") with white and tan mats

Print

8″ × 10″

Actual image size is 7.14″×10″.

Print

11″ × 14″

Actual image size is 10″×14″.

Print

16″ × 20″

Actual image size is 14.29″×20″.
*Frame and mats not included unless noted. Shipping costs are for the continental U.S. Ordering help & policies.