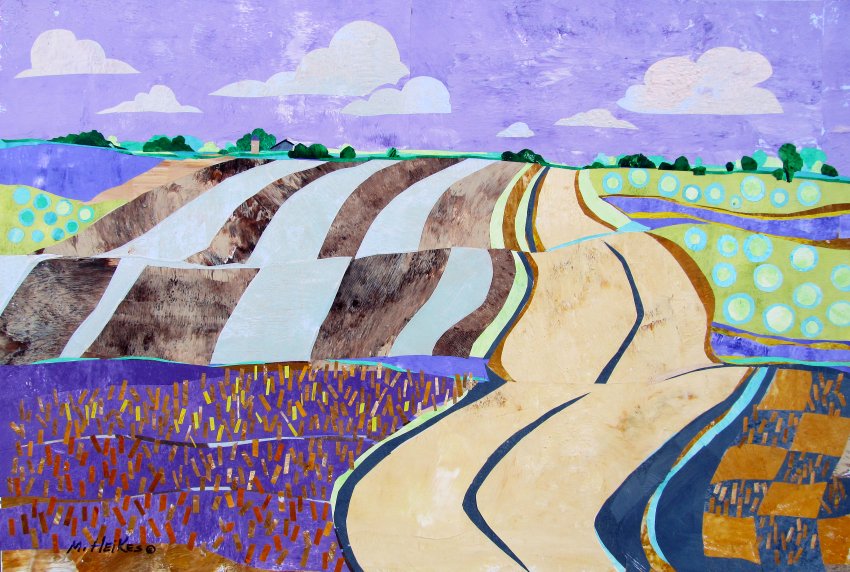 Amber Waves of Grain
Acrylic collage
This acrylic painting is a continuation of my Iowa landscape series. I am inspired to paint the rolling hills of crops, the disappearing barns full of character, silos and other farm implements. The combination of geometric shapes and curvilinear forms interest me.
Landscapes in Iowa convey calmness and peaceful living. The design possibilities are endless, and I have taken many photographs over the years to use as reference. Here, the road leads into the landscape and, combined with the rolling Iowa fields of crops and billowing clouds, are familiar sights traveling throughout the state. I used whimsical colors instead of the local colors and sketched in the composition loosely using my photo. The main pigments I used were lavender, yellow ochre, umber, tan, gray, lime, emerald and purple. The support is aquabord which prevents any buckling using watermedia. It is protected with a UV varnish.
Want to Buy It?
Format
Size
Price
Original

30″ × 20″

Black wood frame (35" x 25") with white and gray mats

Print

8″ × 10″

Actual image size is 6.67″×10″.

Print

11″ × 14″

Actual image size is 9.33″×14″.

Print

16″ × 20″

Actual image size is 13.33″×20″.
*Frame and mats not included unless noted. Shipping costs are for the continental U.S. Ordering help & policies.