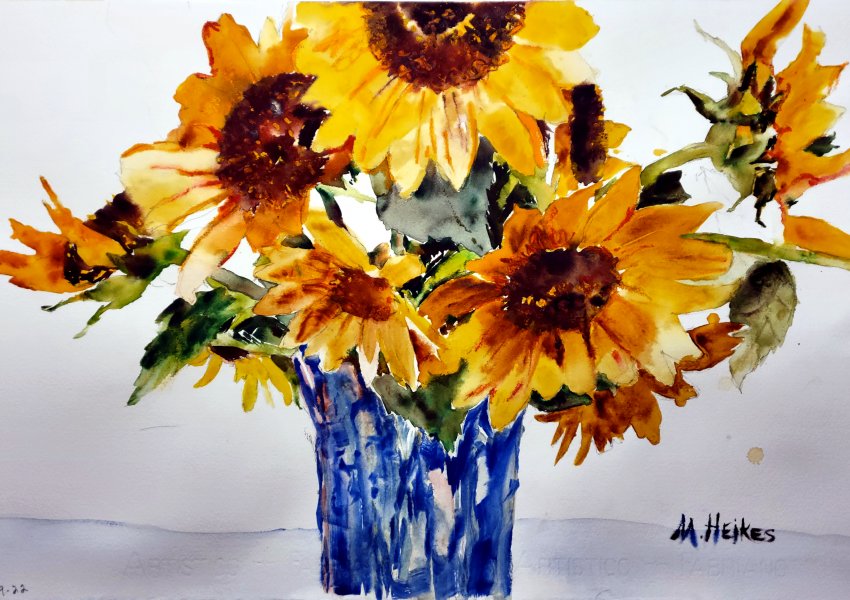 Sunflower Vignette #2
Watercolor
A client requested an original sunflower watercolor painting, and I am always happy to paint these bold and colorful flowers. They come in array of yellows, rust and mahogany hues — what's not to like? I worked from a reference photo, previously taken many years ago. The placement and design is so fresh and inviting. The pigments used were Gamboge, Cadmium yellow, Burnt orange and scarlet. I also added oil pastels and watercolor crayons for the large, seeded heads. I love the result.
Want to Buy It?
Format
Size
Price
Original

22″ × 15″

Frosted walnut metal frame (26" x 22") with sand and brown mats

Print

8″ × 10″

Actual image size is 6.82″×10″.

Print

11″ × 14″

Actual image size is 9.55″×14″.

Print

16″ × 20″

Actual image size is 13.64″×20″.
*Frame and mats not included unless noted. Shipping costs are for the continental U.S. Ordering help & policies.