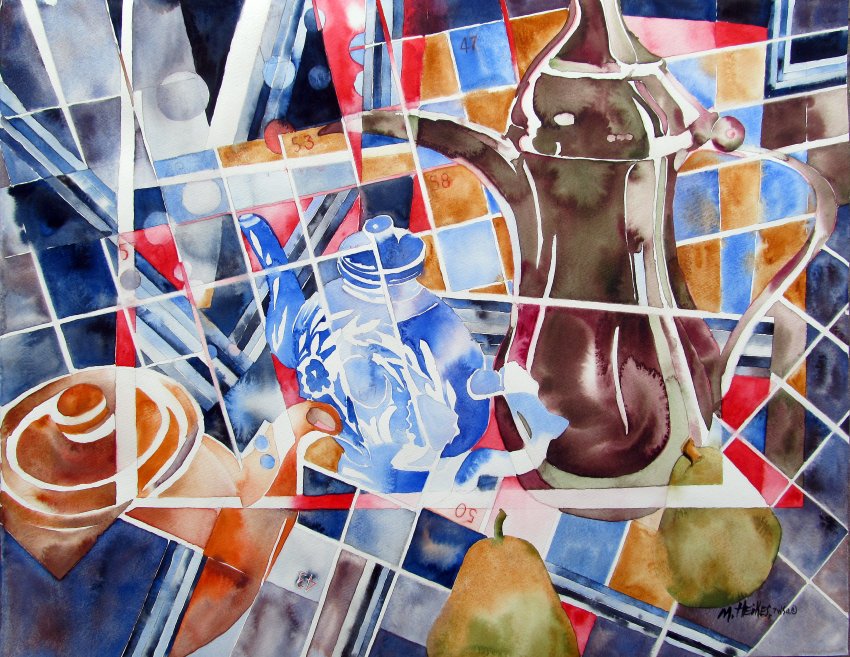 Teapot Series #19
Watercolor
For me, the challenge is to continue this series and expand on the teapot designs. My goal is to do at least twenty unique designs. Originally the focus for this background was to be a crossword puzzle, but it evolved into the arrow-like shapes. I also wanted to use a different range of colors than I usually go to, something out of my comfort zone. The fun part of painting is drawing the design and playing with the shapes and planning colors and value patterns. I do not usually work from a thumbnail sketch, but prefer to allow for surprises and changes along the way and see where it takes me.
Want to Buy It?
Format
Size
Price
Original

24″ × 18″

Gold flat textured metal frame (30" x 23") with single white mat

Print

8″ × 10″

Actual image size is 7.5″×10″.

Print

11″ × 14″

Actual image size is 10.5″×14″.

Print

16″ × 20″

Actual image size is 15″×20″.
*Frame and mats not included unless noted. Shipping costs are for the continental U.S. Ordering help & policies.