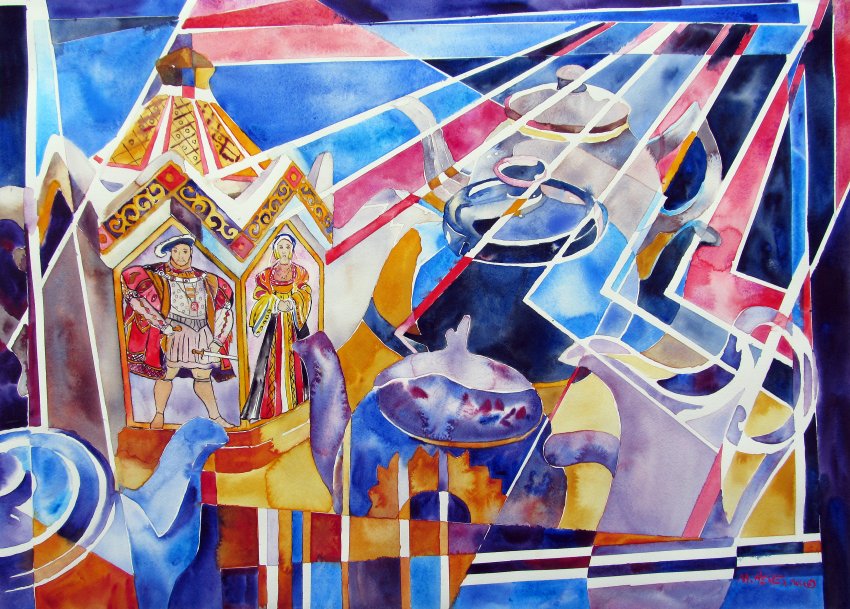 The King and Queen of Pots
Watercolor
This was an exciting design to work on using my "Royal" Teapot given to me by my mother. It has various kings and queens of England on it and is decorated with intricate patterns. I edited much of the patterns and added other teapots from my collection to the composition. After that, I superimposed a Cubist pattern over the design, fragmenting the shapes to add interest. I decided on the colors and values as I painted, stopping in between to critique the in-progress view. This is basically an intuitive process, allowing for changes and surprises as I paint.
I began this series in 2004, and have completed pieces that have been exhibited in many regional and national competitions. I am happy with the results, and plan to do a few more teapot designs. The shapes and colors interest me, and it is said an artist can see their progress when working in a series.
Want to Buy It?
Format
Size
Price
Original

29″ × 21″

Gold metal frame (36" x 28") with white and blue mats

Print

8″ × 10″

Actual image size is 7.24″×10″.

Print

11″ × 14″

Actual image size is 10.14″×14″.

Print

16″ × 20″

Actual image size is 14.48″×20″.
*Frame and mats not included unless noted. Shipping costs are for the continental U.S. Ordering help & policies.