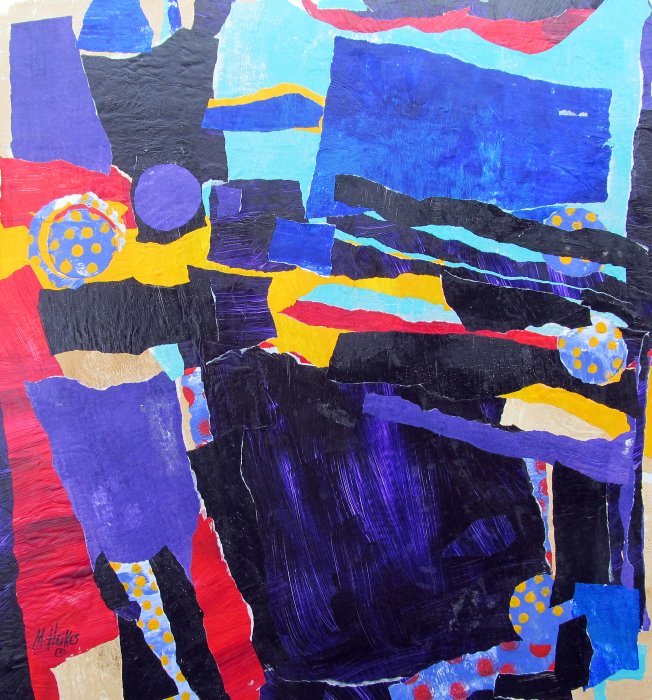 Dark Cliffs, Red & Violet Rockscape
Acrylic collage
I began this abstract collage without a thumbnail sketch, but by choosing a variety of colors from my hand-painted acrylic papers. Some of my newer papers were painted with a bristle brush instead of using the brayer to roll and blend the pigments. I liked the brush marks on the paper which adds some new textures. When rolling out the pigments with a brayer, the tendency is more thick layers of paint and variegated colors.
With acrylics there are many different ways of applying the colors and I have been experimenting with different techniques to expand the finished result. Most of the time I have used an X-Acto knife to cut the shapes, or scissors. This time I decided to tear the papers, resulting in a nice, white edge. It adds a linear design to the shapes. The largest shape here is one of dioxazine purple, a nice dark value. I read somewhere that if you limit your design to twelve different shapes, it makes for a stronger design. Easier said than done.
I continue adding shapes and re-arranging them until the composition looks right to me. This is an intuitive result of many years of drawing, composing and painting and it seems to come easy to me. I use a glue stick to temporarily paste them in place — and continue the process of editing.About halfway through gluing, I decided a few smaller circular shapes would improve my design. These were also torn into circles — not perfect ones — and I added dots of yellow and red paint on these. It took a while to decide on placement. Sometimes it is easier to drop them from above and let them fall wherever they end up. After adding the circles I decided they were a bit much, popping out at the viewer, and covered them up. In the end I decided it was better to uncover them.
Collage is a very forgiving medium. Because I work with a thinner paper to begin with, the end result appears to be painted and seamless not a conglomeration of uneven pasted  papers. I feel this is a successful design because it is bright and bold and it has a strong value pattern.
Want to Buy It?
Format
Size
Price
Original

32″ × 34″

Flat pewter metal frame (40" x 42") with single white mat

Print

8″ × 10″

Actual image size is 8″×8.5″.

Print

11″ × 14″

Actual image size is 11″×11.69″.

Print

16″ × 20″

Actual image size is 16″×17″.
*Frame and mats not included unless noted. Shipping costs are for the continental U.S. Ordering help & policies.