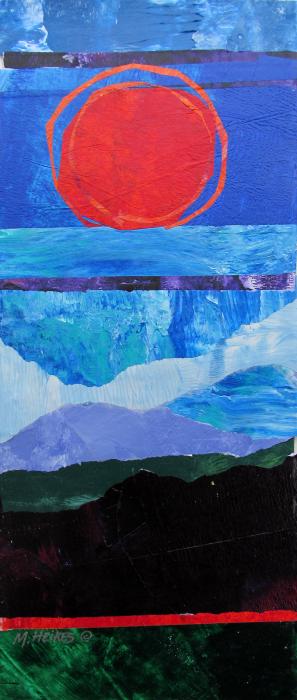 Coastal Horizons (Blue Seascape)
Acrylic collage
This abstract landscape was inspired by seaside vacations in the past. I wanted to explore this motif in a different format instead of a traditional watercolor painting, and not use a standard size. Using an oblong frame in stock, I figured my image size and determined the measurements to fit the mat.
It began with choosing colors and which pigments complemented each other. A sketch wasn't needed; I had an idea in my mind and began at the top of the composition and worked my way down towards the foreground. Ultramarine and cobalt blues were used for the sky shapes and a few strips of violet. I did experiment with a yellow ochre, but it was not satisfactory compared to the dark blues. Easy enough to glue another piece over and change the flavor.
Some of the pieces were torn, others cut with an X-Acto knife. The bright red circle representing the sunset fit on top and provided an excellent value change and temperature against the sky. I continued down through the mid-section, adding the aquamarine and cerulean for the sea shapes, and continued to the rocky foreground.
I used acrylic gloss medium to adhere the collage papers and use a paper towel to wipe up the excess medium. A brayer is used to flatten and remove air bubbles. When the collage is dry, I trim the excess papers from the edge and sign it.
I feel this is a successful landscape and adds freshness and interest  to any decor. The shape and size of the frame fits well in small areas too. This has inspired me to do a series of similar landscapes from vacation trips. Collage lends itself to a variety of themes and colors. The possibilities are endless. I am excited to begin my next piece — the end result is always a pleasant surprise!
Want to Buy It?
Format
Size
Price
Original

7 ½″ × 17″

Flat copper wood frame (12" x 21.5") with white mat

Print

8″ × 10″

Actual image size is 4.41″×10″.

Print

11″ × 14″

Actual image size is 6.18″×14″.

Print

16″ × 20″

Actual image size is 8.82″×20″.
*Frame and mats not included unless noted. Shipping costs are for the continental U.S. Ordering help & policies.