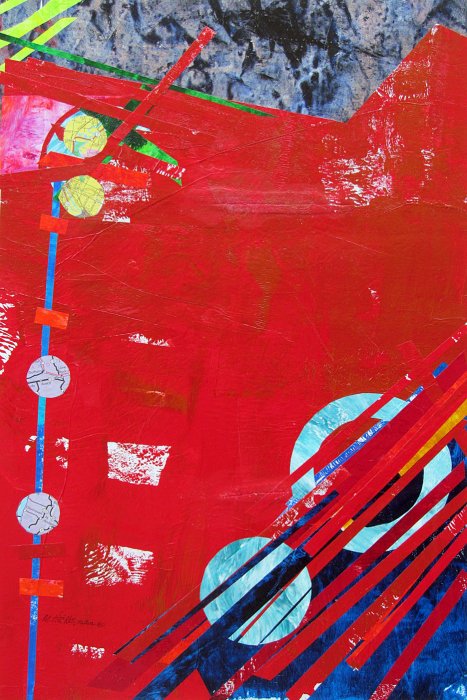 Road Trip #2
Acrylic collage
This is a continuation of an abstract collage design I completed for an upcoming competition. At the start, I chose and cut various shapes of papers and played with different configurations until the design pleased me. What usually happens with the design is an evolving of shapes, patterns and textures. Early on, I decided that the large crimson-red shape was to be most important with some contrasting pale green circular shapes. The gray textured shape on top is one of my favorite papers, with some oil pastels scribbles integrated with the watercolor. This is mostly an intuitive process, and I can spend all day re-arranging shapes.
When I thought it was finished, I set it aside  for a day or two. Critiquing an abstract is difficult and I remember an instructor once said an abstract design "holds up" from each side. I viewed it for a few days, upside down, and sideways, feeling there was something missing and it needed adjustment of some kind but was at a standstill. After a week or so, I figured on adding more circular map shapes on the left and diagonal strips of red over the green circles. It  was finally completed!
Exhibited in the 2013 Midwest National Abstract Exhibition IX
Want to Buy It?
Format
Size
Price
Original

14 ½″ × 21″

Black wood frame (22" x 26") with white and off-white mats

Print

8″ × 10″

Actual image size is 6.9″×10″.

Print

11″ × 14″

Actual image size is 9.67″×14″.

Print

16″ × 20″

Actual image size is 13.81″×20″.
*Frame and mats not included unless noted. Shipping costs are for the continental U.S. Ordering help & policies.